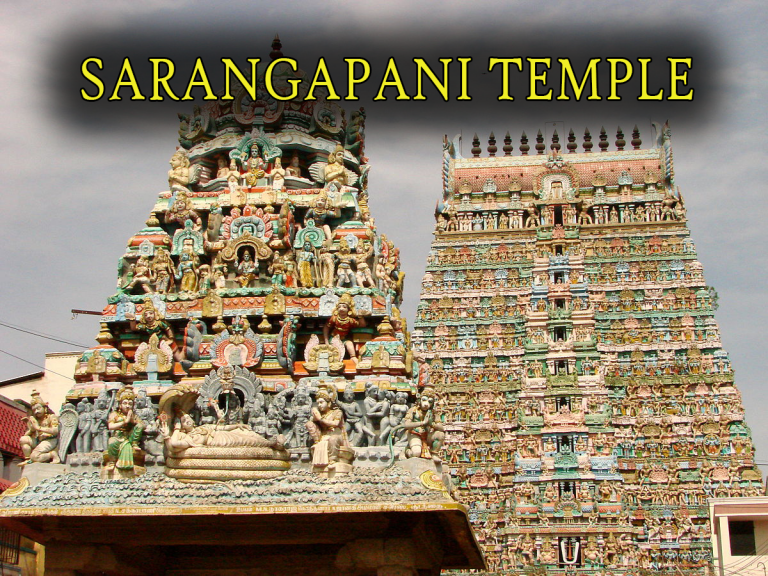 Sri Sarangapani Temple is considered one among the three major shrines of Lord Vishnu and it was renovated during the period of Nayaka Kingdom of 16th century.Sarangapani temple consists of only one holy tank,known as "Porthamarai Kulam".The Karuvarai and Vimanam are made with 12-sculptured columns shaped like a chariot.
Distance (From Kumbakonam Railway Station): 
2 Kms
Visited From: 
Adi Kumbeswarar Temple (500 m)
Trip Duration (Including Travel): 
30 Mins
Place Location: 
Near Adi Kumbeswarar Temple
Transportation Options: 
Walk/Trek
Timings: 6 AM – 12 PM and 5 PM – 9 PM
At a distance of 2 km from Kumbakonam Railway Station and 500 m from Adi Kumbeswarar Temple, Sarangapani Temple is a Hindu temple situated in Kumbakonam.
The temple is dedicated to Lord Vishnu. Sarangam means bow and pani means hand. The deity is having a bow in the hand. Also known as Tiru Kudanthai is the third of the 108 Divya Desams. The Sarangapani Temple is also one of the Pancha Ranga Khestras with the other four being Srirangapatnam, Srirangam, Appalarangam, Parimala Ranganatha Perumal Temple at Mayiladuthurai and Vatarangam at Sirkazhi.
The Sarangapani Temple existed during the Pallava period. However, the current structure is attributed to the period of Vikrama Chola (1121 AD onwards) and it was renovated in 16th century during the period of Nayaks.
Sarangapani Temple is the biggest Vishnu temple in Kumbakonam. It is of great religious significance and considered to be second only to the Srirangam Temple in Trichy. The temple boasts of 5 prakaras and a holy tank which is known as Porthamarai Kulam. The rajagopuram has 11 tiers and has a height of 150 feet. This is the third tallest temple gopuram among the Divya Desams other two are Srirangam (236 feet) and Srivilliputhur (192 feet).
The central shrine of the temple is in the form of a chariot drawn by horses and elephants, with openings on either side, showing the descent of Sarangapani from heaven in the chariot. The Presiding deity is Sri Sarangapani Swami and he is also known as Aara Amudhan, Abayaryaapthamiruthan and Utthanasayi. Sarangapani is shown in the Udhyoga Sayana posture as if he is getting up from a reclining position. The consort of the lord is Komalavalli Thayar.
Chariot festival is the most prominent festival of the temple, celebrated during the Tamil month of Chittirai (March-April). The twin temple chariots are the third largest in Tamil Nadu, each weighing 300 tons. Brahmotsavam, spring festival and Navaratri are the other important festivals of this temple.