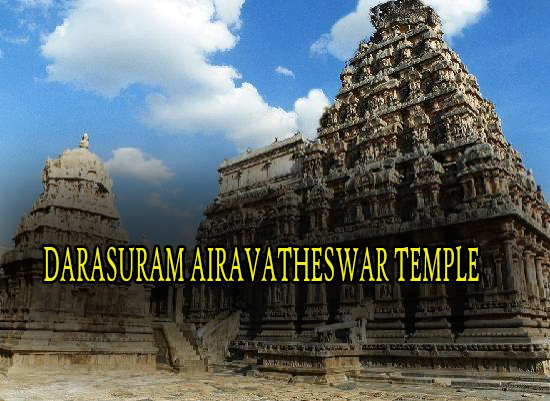 Airatesvara temple, located in Darasuram near Kumbakonam, was built by Rajaraja Chola II in the 12th Century AD.
Distance (From Kumbakonam): 
8 Kms
Trip Duration (Including Travel): 
1-2 Hours
Place Location: 
8 Kms From Kumbakonam
Transportation Options: 
Bus / Cab
Timings: 6 AM to 7 PM
Travel Tips: 
Kumbakonam (8 Kms) can be visited along with this place
At a distance of 34 Kms from Thanjavur & 284 Kms from Chennai, Darasuram, a small town 8 Kms away from Kumbakonam is known for the Airavathesvara Temple built by Rajaraja Chola II in the 12th century CE. This temple is part of the UNESCO World Heritage Site 'Great Living Chola Temples'.
This temple is a storehouse of art and architecture. The vimana is 85 feet high. The front mandapam itself is in the form of a huge chariot drawn by horses. The temple has some exquisite stone carvings. The main deity's consort Periya Nayaki Amman temple is situated adjacent to Airavateshwarar temple.
The legend goes to show that Airavata, the white elephant of Indra, worshipped Lord Siva in this temple; so did also the King of Death, Yama. Inscriptions on the temple walls say that it was known in those days as Raja Rajeswaram and Raja Rajapuram.
This temple along with the Brihadisvara Temple at Thanjavur and the Gangaikondacholisvaram Temple at Gangaikonda Cholapuram are collectively known as the Great Living Chola Temples, which have been recoginized by UNESCO as a World Heritage Site.