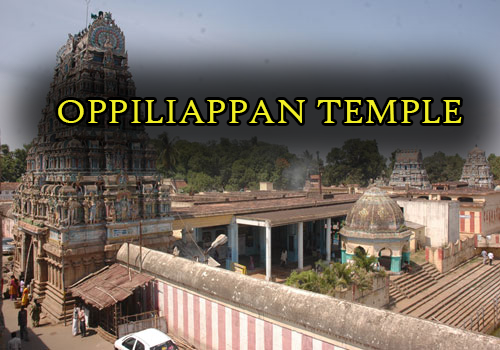 Lord Uppiliyappan was praised by Nammazhwar in his songs as Ponnappan, Maniappan, Muthappan, Ennappan and Thiruvinnagar appan and Opparilla Appan (means not equivalent to anybody).
Distance (From Kumbakonam Railway Station): 
5 Kms
Visited From: 
Kumbakonam Railway Station
Trip Duration (Including Travel): 
1 Hour
Place Location: 
At Thirunageswaram
Transportation Options: 
Bus / Cab / Auto
Timings: 6 AM – 1 PM and 4 PM – 9 PM
At a distance of 5 km from Kumbakonam Railway Station, Uppiliappan Temple also known as Thiruvinnagar is an ancient temple dedicated to Lord Vishnu situated near Thirunageswaram, a village in the outskirts of the Kumbakonam in Tamil Nadu. It is counted as the 60th among the 108 Divya Desams dedicated to Lord Vishnu.
The temple is believed to be constructed by the Medieval Cholas of the late 8th century AD, while later contributions made by Thanjavur Nayaks. The temple has two inscriptions dating from the Chola period.
According to mythology, Lord Oppilliappan married Bhoomidevi here. The Lord came in the form of an old man and asked Markandeya to give his daughter Bhoomidevi in marriage to him. Markandeya said that his daughter was too young to cook food and that she did not even know how to use salt in cooking. To this the Lord said that he would accept the food even without salt. Hence the Lord gets the name Uppiliappan and salt is not added in the prasadam prepared in the temple.
The temple was constructed in Dravidian style of architecture. It has a five-tiered Rajagopuram. Lord Vishnu is worshiped as Uppiliappan and his consort Lakshmi as Bhoomidevi. The 8 feet tall idol of the Lord with Bhoomidevi on the right and Markandeya maharishi on the left was appeared in the main sanctum. The Utsava deity Oppiliappan is never taken out of the temple without his consort Bhoomidevi, since he had promised Markandeya maharishi that he would never leave his daughter Bhoomidevi alone while asking her hand in marriage.
The Temple has a holy tank inside the temple premises. Lord Rama, Lord Garuda, Lord Hanuman, Maniappan, and Muthappan are the other shrines present in this temple premises. There is a beautiful Temple elephant which is decorated during festival occasions. The lord is also known as lord Venkateshwara's brother and so those devotees who are unable to visit Tirupati to fulfill their promises can do so here.
Brahmotsavam is grandly celebrated at the temple in the months of Purattasi (September-October), Aipasi (October-November) and Panguni (March-April).