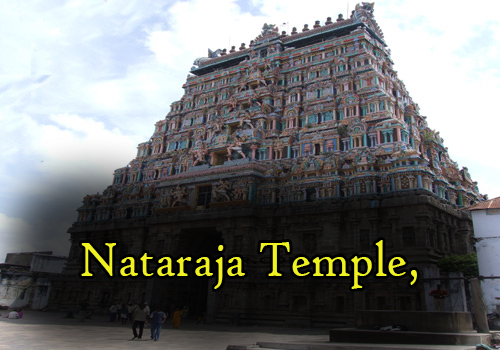 Nataraja Temple, also referred to as the Chidambaram Nataraja temple or Thillai Nataraja temple, is a Hindu temple dedicated to Nataraja – Shiva as the lord of dance – in Chidambaram, Tamil Nadu, India.
Ideal Trip Duration   : 
2 Full Days.
Base Station        : 
Chidambaram
Nearest City to Chidambaram      : 
Tiruchirappalli (168 Kms)
Best Time to Visit Chidambaram  : 
July & October to March
Peak Season: 
July & December to February
State: 
Tamil Nadu
 | 
District    : 
Cuddalore
Chidambaram Weather: 
Maximum   : 37°C
Minimum   : Below 20°C
At a distance of 217 km from Chennai, 189 km from Kanchipuram, 43 km Cuddalore, 66 km from Pondicherry, 43 km Mayiladuthurai, 85 km from Nagapattinam, 303 km from Madurai and 173 km from Trichy, Chidambaram is a pilgrimage town in Cuddalore district of Tamil Nadu. Well known for Nataraja Temple, Chidambaram is one of the most celebrated shrines in South India and also one of the famous Tamilnadu places to visit.
Chidambaram is also known as Thillai. The name Chidambaram comes from the Tamil word Chitrambalam which means the small hall or stage of wisdom. According to legend, it was once a forest of thillai, a mangrove species of trees. There was once a small shrine on the banks of a tank. The saints Vyagrapada and Patanjali are said to have worshipped at this shrine, now called Thirumoolanathar. It is believed that their penance attained perfection with the revelation of Shiva's cosmic dance by Lord Nataraja on the auspicious Thai Poosam day.
The town of Chidambaram has been ruled by many kingdoms over the centuries, most notably the Medieval Cholas, Later Cholas, Pandyas, Vijaynagar Kingdom, the Marathas, and the British. The town is known for the Thillai Nataraja Temple and the annual chariot festival held in the month of April. Chidambaram Nataraja Temple was built during the 11th century and is one of the most celebrated Shaivite Temples in South India. Lord Nataraja is the family deity of Vikrama Chola (1128 CE) and his successors. The golden hall of dance was built and covered with gold plates by Jatavarman Sundra Pandya.