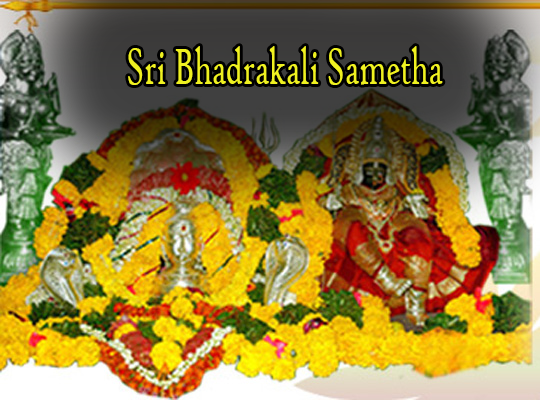 Muramalla Temple is easily accessible by road. It is 37 km from Kakinada and 23 km from Amalapuram. The nearest railway station is Rajahmundry which is about 75 km from Muramalla.Sri Bhadrakali Sametha Veereswara Swamy temple, also popularly known as Muramalla Temple is located in the Muramalla village in the East Godavari district of Andhra Pradesh.
HISTORY 
It is not an unknown fact that Lord Shiva was enraged when he came to know that Sati had immolated herself unable to bear the humiliation her father, Daksha Prajapathi had meted out to her during the Yagyna. Upon hearing the news of Sati's immolation, Shiva's anger knew no bounds and performed the "Tandava" (the dance of destruction) and forcibly plucked out a lock of his hair from his matted locks and threw to the ground. A huge volcano leaped from the spot and from the fire came – Veerabhadra Swamy "Shiva's anger personified". From every spark of fire from the volcano arose another smaller volcano and from it came out a smaller figure resembling Veerabhadra Swamy. An army of millions of Veerabhadras marched towards Daksha Prajapathi's palace as they only knew death and vengeance. They destroyed whatever they saw. Finally,
Veerabhadra Swamy found Daksha Prajapathi and cut off his head. But Prasuti, the wife of Daksha, prayed to Lord Shiva for her husband's life. Shiva granted it and Veerabhadra Swamy placed a goat's head on Daksha's body. But even after this, Veerabhadra Swamy could not be pacified. Fearing this, the revered saints and other Gods prayed to Sri Maha Vishnu to pacify Veerabhadra Swamy. Sri Maha Vishnu in the disguise of Lord Narasimha Swamy went to meet Veerabhadra Swamy. But Veerabhadra Swamy caught Lord Narasimha Swamy by the waist and refused to let go. Leaving his avatar of Lord Narasimha Swamy, Sri Maha Vishnu informed Lord Brahma, the creator about Veerabhadra Swamy. The great Trinity viz. Lord Brahma, Lord Vishnu, Lord Shiva along with the other Gods prayed to Adi Parashakthi. She then sent Bhadrakali- a form/avatar (out of 16 forms/avatars) of Adi Parashakthi. Bhadrakali approached Veerabhadra Swamy in the disguise of a young girl. Seeing her Veerabhadra Swamy pacified. With the blessings of all the saints, Gods, and the Trinity (Lord Brahma, Lord Vishnu, and Lord Shiva), Sri Veerabhadra Swamy and Bhadrakali were married according to Gandharva Vivaham custom. Since then, the priests here have been performing the Kalyanam (the celestial wedding) everyday in the early hours as well as at night, where Veerabhadra Swamy is dressed up as a bridegroom which is then followed by Pavalimpu Seva. It is believed that Veerabhadra Swamy gets angry if marriage ritual is not performed. So, the priests do it in a traditional way wherein they take the deities around the village before performing the kalyanam.
Accommodation:
There are four rooms available for accommodation in the temple premises. Devotees can book the rooms in advance, if they intend to stay behind. The rituals are completed only by 11 PM. Those who come from faraway places must have their own transportation arrangements because public transport is not available from Muramalla at this late hour. Alternately, they can stay back at the temple.
Poojas offered:
Gau Pooja (Cow Pooja)
Panchamrutha Abishekam
Nityakalyanam Pooja
The other rituals such as Annaprasanna, Mahanyasam, and Vahana Pooja Chariot pooja) are also performed.
Festivals:
Maha Shivaratri Festival – February/March
Annual Brahmotsavam
Laksha Rudraksha Festival
Pushkaranadi Jalabhishekam
Chandihomam
Muramalla Temple Darshan Timings:
Timings: The kalyanotsavam of Sri Bhadrakali sametha Sri Veereswaraswamy at Muramalla in I. Polavaram mandal of East Godavari is performed on a daily basis from 7 p.m. to 10.30 p.m.
Nitya Kalayanam Schedule
Nitya Kalyanam Pooja will be performed from 5P.M. onwards. In order to facilitate the dinner under 'ANNADANAM' scheme, registered devotees attended to perform the Kalyanam should inform their presence along with receipt to temple authorities by 5 P.M.
Nitya Kalyanam Pooja will start according to sun dusk (Suryaasthamayam), devotees should carry 2 Garlands (Poolamalas), Beetle Leaves (Tamalapakulu), Beetle Nuts (Pokachekkalu) and Bananas. Remaining Pooja material will be arranged by temple authorities.
Address:
Muramalla, East Godavari, Andhra Pradesh 533220