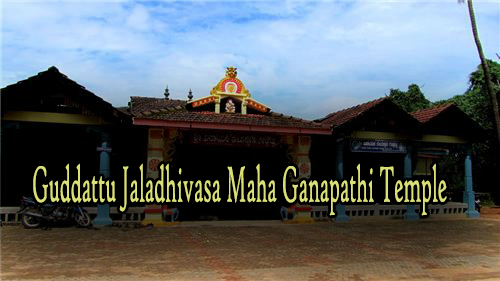 Guddattu is located about 15 km from Kundapur in Udupi district. The Jaladhivasa Ganapathi (Vinayaka) Temple here is unique of its kind in India. This ancient temple is situated on the foot of a huge rock, which looks like a sleeping elephant. On both sides of the rock are surrounded by the forest and lush green paddy fields and the place is picturesque.
How to get there:
Nearest Airport: Mangalore
Nearest Railhead: Kundapur, Udupi
Road: Guddattu is well connected with road network.
Guddattu Vinayaka Temple is about 35 km from Udupi and can be reached via Brahmavara – Barkur, Shiriyara.
Guddattu Vinayaka Temple is about 15 km from Kundapur and can be reached via Koteshwara – Hunsemakhi – Guddeangady.
Guddattu Vinayaka Temple is about 10 km from Shankaranarayana and can be reached via Halady – Bidkalkatte – Shiriyara.
The 'Swayambhu' Ganapathi (Ganapathi emerged on its own) is the main attraction of the temple located on the eastern part of this rock. Lord Ganapathi here sitting with his legs folded, trunk twisted towards sight, is sun in a sitting posture and looking towards south.
Guddattu Jaladhivasa Maha Ganapathi Temple is very ancient temple and no body knows when it came to existence. As per the legend, Lord Shiva advised Lord Ganapathi to sit in the water (Narasimha Theertha) here to get rid of the great burning sensation to Lord Ganapathi's skin after eating excess of honey.
The Idol of Lord Ganapathi (Vinayaka) is about 3 feet and is in black stone sculpture with little gap around it. The cave will always be kept filled with water which sinks the lord Ganapathi up to neck level. The lord is visible to the people through a hole which is located in front of lord Ganapathi. The temple of Lord Ganapathi here is renovated by attractive Mukhamantapa, Thirthamantapa, Hebbagilu and Pauli which is constructed here with granitic structure as per temple vaastu.