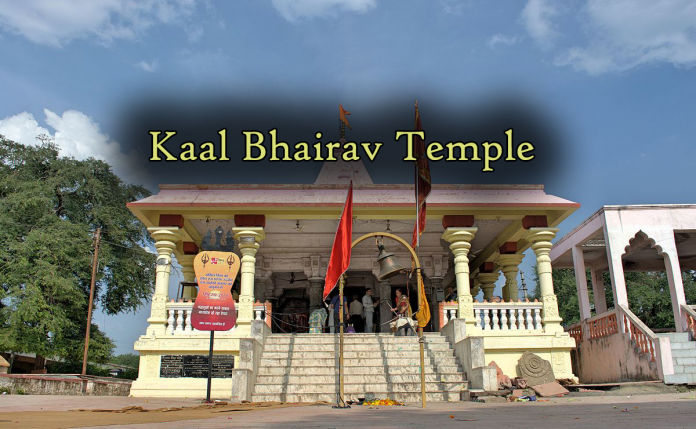 Kaal Bhairav Temple is counted among one of the most religious temples of Madhya Pradesh. It is located in the town of Adegaon and is a fierce manifestation of Lord Shiva linked with annihilation. Temples that are related to Bhairava are present within or near most Jyotirlinga temples.
Distance (From Varanasi Junction): 

5 Kms

Commonly Visited From: 

Kashi Vishwanath Temple (1 km)

Trip Duration (From Kashi Vishwanath Temple , Including Travel): 

30 Mins

Place Location: 

At Vishweshwarganj Area

Transportation Options: 

Cab / Walk/Trek

Timings: 5 AM to 1.30 PM & 4.30 PM to 9.30 PM

At a distance of 1 km from Kashi Vishwanath Mandir and 5 km from Varanasi Junction, Kaal Bhairav Temple is a Hindu Temple situated at Vishweshwarganj area of Varanasi. It is one of the oldest temples in Varanasi and also one of the best Places to visit in Banaras.

Kaal Bhairav Temple Timings:

Kaal Bhairav Temple remains open from 6 am to 8 pm.
The pilgrims, however, will have to note that the shrine remains closed from 12 noon to 2 pm.
The temple timings may differ during important festivals and occasions.

Kaal Bhairav Temple Food Timings:

Prasad or food is offered to the pilgrims after 2 pm.
It mainly consists of sweets and dry fruits.
Devotees can also offer seasonal fruits to the deity during their visit.

Festivals celebrated at Kaal Bhairav Temple:

Bhairava Ashtamiis one of the important festivals that are observed in the temple premises. It is celebrated by pilgrims commemorating the day Kal Bhairav appeared on earth. People consider this occasion to be highly auspicious and it is celebrated on Krishna Paksha Ashtami of the Margashirsha month of Hindu calendar. It is a day of special prayers and rituals.
Shiva Ratri is also considered to be pious and is observed with great pomp in this temple. Thousands of devotees gather from all parts of the surrounding town and offer prayers and seek blessings from the Almighty. They also offer Prasad and the temple is well decorated with oil lamps on this occasion.

Poojas and Rituals at Kaal Bhairav Temple:

A ritual is a set of actions, performed mainly for their symbolic value. It may be prescribed by the traditions of a community, including a religious community.  In this Kaal Bhairav Temple, the deity is offered arati during the morning and the evening.
Lord Bhairava is worshiped by offering or pouring water, milk, honey, curd, ghee, vibhuthi or sacred ash and sandalwood paste. This is called Abhishekam.
One can offer bilwa leaves along with flowers like lotus, jasmine, and sankhapushpi.
Food offerings need to be presented before the deity. An incense stick and a diya lit with ghee should also be burnt.
It is important to wear neat and clean clothes when you worship the Lord.

Dedicated to Lord Bhairav Naath, the temple has great historical and cultural importance in Hinduism; especially amongst the locals. Bhairav is considered to as the fearsome manifestation of Lord Shiva who wears a garland of skulls and carries a club of peacock feathers. Lord Kaal Bhairav is believed to be the guardian deity of Varanasi and everyone who wants to live in Varanasi need to take his permission. He is also believed to be the Kotwal of 'Sati pind', without his permission no one can touch the 'Sati pind'.

According to legend, Lord Bhairav was born from the Third eye of Lord Shiva and he is the symbol of Anger. He cut one of the heads of Brahma himself when ordered by Lord Shiva. Cutting off Brahma's fifth head made him guilty, so Lord Shiva advised him to go to Kashi where he will get rid of the sins and also told him to stay there and take care of his devotees. When depicted as Kaal Bhairav, Bhairav is shown carrying the decapitated head of Brahma.

The sanctum of Kaal Bhairav Temple houses a silver faced idol of Kaal Bhairav who is seated on a dog and is holding a trident. Only the face of the idol is visible to the visitors through the doorway. Rest of the idol is covered with a piece of cloth.