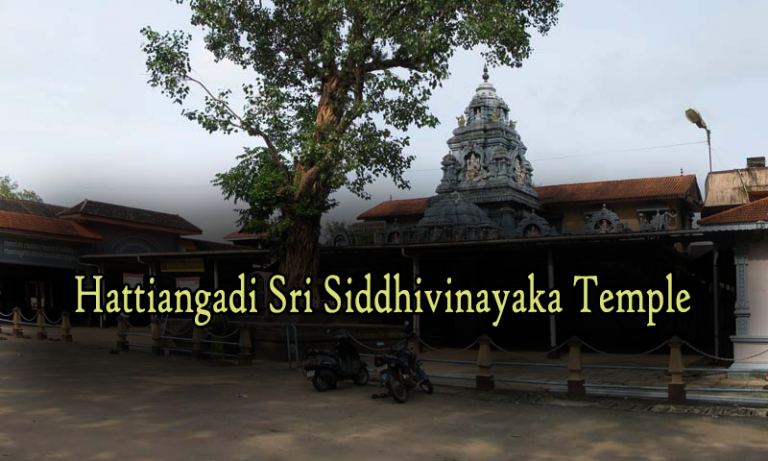 Another shrine dedicated to Lord Ganesha, Hattiangadi Sri Siddhivinayaka Temple is located about 9 km north-east of Kundapur. The quaint village of Hattiangadi was once the capital of the Alupa kings and the temple is believed to have been constructed around the 7th or 8th century. The renovated temple was inaugurated in 1980 and another renovation was done in the late 1990s.
Place statistics
Type of place: Ancient temple
Situated: Kundapur Taluk, Karnataka
Distance: 9 Km from Kundapur
Transport: Well connected by road
Facilities: Rest room is available. Free food is served to devotees
Address
Sri Siddivinayaka Temple Hattiangadi – 576 283
Kundapura, Udupi, Karnataka State, India
Phone: 91 8254 264201 (Office), 264328 (Residence)
Nearest Airport: Mangalore
Nearest Railhead: Kundapur
Road: Hattiangadi is well connected by roads. From Kundapur travel towards Bhatkal and take right turn after 9 km from Kundapur and proceed further 5 km to reach hattiangadi.
The main idol of the deity, standing about 2.5 feet tall, is made up of black marble and carved out of Shaligram stone. It is the only idol of Lord Ganesha in the country where His curly black hair is left loose. The offering of the locally available flowers of the areca nut tree is considered extremely sacred here. The falling of the flowers from the crown of the lord every time during the 'aarti' is the highlight. 'Sahasra Narikela Ganayaga' (a pooja done using 1008 coconuts) is one of the special prayers conducted at the temple.