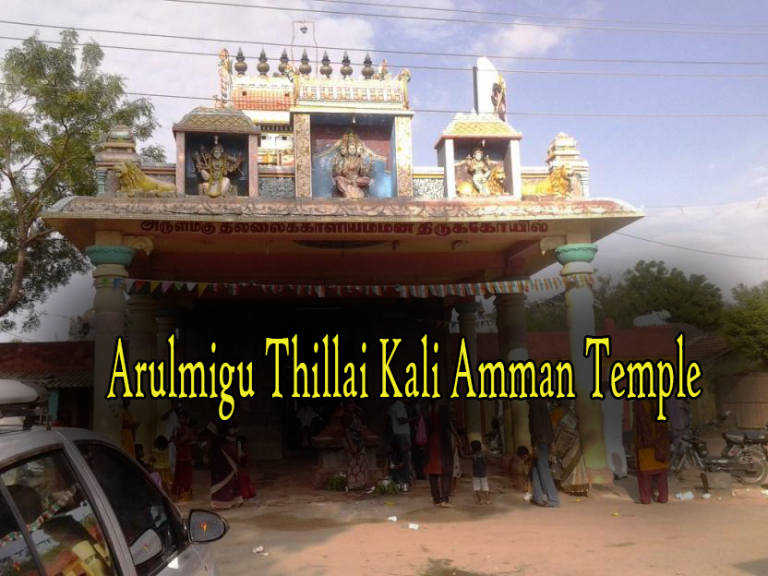 The Thillai Kali Amman is the controller of the Zodiac Star 'maham' . So `the devotees belonging to the Maham star will receive abundant blessings if they worship the Goddess. Every year during the Maasi Pavurnami at 06 am in the morning, the Chandran and after two days from the Pavurnami between evening 06 pm to 06:15 pm the Suryan worship let their divine light fall on the Goddess and worship her. The fiery Thillai Kali is sitting facing towards the East.
Distance (From Chidambaram Central Bus Station): 
2 Kms
Visited From: 
Chidambaram Central Bus Station
Trip Duration (Including Travel): 
1 Hour
Place Location: 
Northern End Of The Town
Transportation Options: 
Cab / Auto
Timings: 6 AM – 12:30 PM & 4:30 PM – 8:30 PM
At a distance of 2 Kms from Chidambaram Bus Station and 1.5 Kms from Chidambaram Railway Station, the Thillai Kaliamman temple is situated in northern end of the town. It was built by Chola King Kopperunjingan who ruled between 1229 AD and 1278 AD.
Once when Shiva and Shakti competed with each other in dancing, Shiva struck a fabulous pose, lifting his leg high. Shakti could not match that pose because of modesty, and so lost the contest. By the rules of the contest, the loser had to leave Thillai and reside outside. So Shakti moved to a location at the edge of the kshetra and a Kali Temple came up there. Thillai Kali is credited with curative powers and showers health and prosperity on those who worship her. The black Goddess Kali has a diamond on her forehead.
Annual Festivals are celebrated in the month of Vaigasi and Navarathiri festival is celebrated in the month of Purattasi.
The Gingely Oil Bath [Nallennai Abhishekam ] is very specially done for the Goddess. Kumkumam Kappu is also done. The Goddess is draped with a white Vastra/ Cloth indicating her calmness and blessings to the devotees. It is also a common belief that the Goddess prevents the Married women who worship her from becoming a widow by draping herself with white Vastra like a widow.