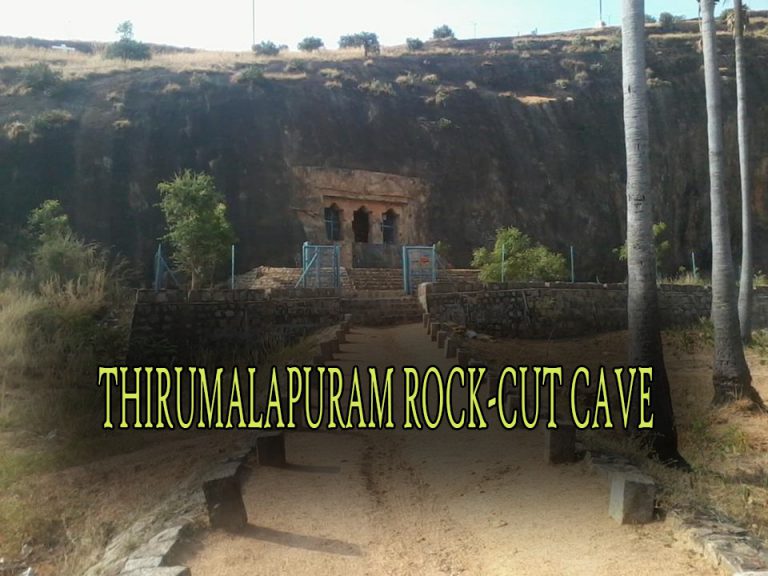 Thirumalapuram, situated in Tirunelveli distrct, has much historical and religious importance. Archaeological evidence is available to prove that people lived here even 10,000 years ago. Neolithic tools excavated from this area bear witness to this fact.
Distance (From Tenkasi Bus Station): 
24 Kms
Visited From: 
Tenkasi Bus Station
Trip Duration (Including Travel): 
2 Hours
Transportation Options: 
Bus / Cab
Travel Tips: 
Ayikudi is situated between Tenkasi & Thirumalapuram and both places can be visited together
Timings: 9 AM – 5 PM
At a distance of 1 km from Thirumalapuram Bus Stop, 24 km Tenkasi and 62 km from Tirunelveli, The rock cut cave temples are situated on the hill of Thirumalapuram also known as Varanasimalai in Sankarankovil Taluk of Thirunelveli District. These ancient Cave temples are now under the protection of Archaeological Survey of India.
There are two rock cut cave temples which are excavated by Pandyan Kings in 750 AD. Among the two caves one is finished and other is unfinished. The finished one is more significant with rectangular ardha-mandapa with a flight of steps and cells on the western walls. It contains bas-relief sculptures and two inscriptions from Pandyan period.
This temple has 3 sections with 3 bas-relief structures. The first one is a beautiful dancing Siva with a bhootha gana and bull on both sides. Lord Shiva is seen in dancing posture of Chatura. A dwarf near his foot plays the musical instrument. Second carving is a standing Lord Vishnu with 4 hands and 2 seated bhootha ganas on either sides with sankha and chakra on upper two hands. Seated Ganesha is seen next to him. On one side is the sanctum sanctorum with a Siva Lingam. On either sides of the entrance of sanctum sanctorum are dwarapalakas. There is another relief sculpture of Brahma with 4 hands and 3 visible heads. On the centre of the hall, facing the Siva Linga is a monolith Nandi which is in broken state.
These figures in these temples are excellent examples of Pandyan art. An inscription of 12th century mentions a gift of land to the temple by a prince named Chakravartin Srivallabhadeva.