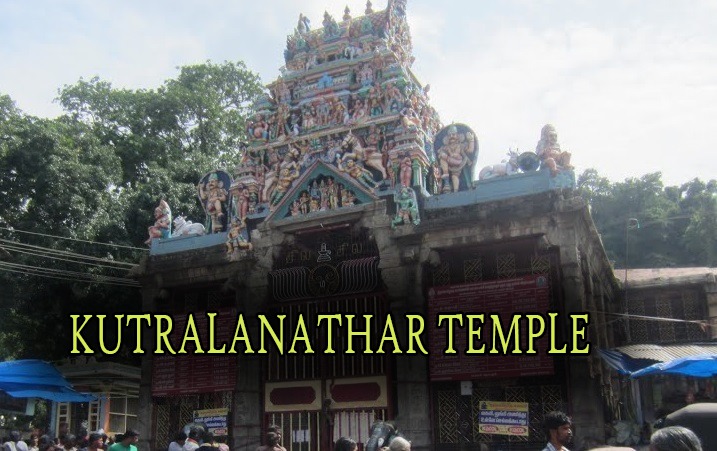 KUTRALANATHAR TEMPLE COURTALLAM are Three major festival of ten days each are celebrated in a year Vishu festival (April) Aipasi Vishu festival (October) Arudra (Erato) Festival (Des – Jan). A special feature of this temple is that during Arudra festival, Thandava Deeparedhana representing the cosmic Dance of the Supreme Being is offered daily to God Nataraja both morning and evening in the temple and specially on the Arudra  day and During the other two festivals this offering and picturesque festival days.
Distance (From Tenkasi Bus Station): 
7 Kms
Visited From: 
Courtallam Main Falls (100 m)
Trip Duration (Including Travel): 
30 Mins
Place Location: 
Adjacent To Courtallam Main Falls
Transportation Options: 
Walk/Trek
Travel Tips: 
This place is just adjacent to Courtallam Falls and usually visited after the falls

Timings: 6 AM – 12 PM and 4.30 PM to 8 PM
At a distance of 200 m from Courtallam Bus Station, 7 km from Tenkasi and 62 km from Tirunelveli, The Kutralanathar Temple also known as Thirukkutralanathar is one of the most popular temples of Tamilnadu and is dedicated to Lord Shiva. It is one of the 275 Thevara Shivasthalas of Lord Shiva. The temple is of 2000 years old and there is lot of old Tamil inscriptions of Chola and Pandyan periods. It is situated near Courtallam Falls.
The 10-day Purattasi Navarathri for Parasakti in September/October, Brahmotsavam in Aipasi (October/November), Margazhi Tiruvadhirai in December/January, Thai Float festival in January/February, Panguni Uthiram in March/April are the main festivals celebrated in the temple.
The main deity of Lord Shiva is worshipped in the form of a self-manifested Linga. This temple situated in a serene atmosphere and it occupies 3.5 acres of land at the foot hills of Trikoodamalai. This is a conch shaped temple and is referred to as Sangakkovil. In the shrine, the presiding deity Lord Shiva is called as Kuttralanathar and his consort Goddess Parvathi is called as Kuzhalvoi Mozhiammai. There is a separate shrine for Adi Parasakthi which is very popular which is a Shakthi Peetha. Nandi idol is facing the main shrine.
According to the legend, this temple was originally a Vishnu shrine. Lord Siva sent Saint Agastya to the south to avoid an imbalance due to overcrowding in the Mount Kailas on his celestial wedding. At Courtallam Saint Agastya found a Vaishnava temple and by his mystic power Agastya converted it in to a Siva Temple. Vishnu changed into a Sivalingam the conch in his hand expanded as the temple and the chakra rose as the peak. The finger prints of Sage Agastya on the Linga are still visible.
This is one of the Pancha Sabha Kshetram of Lord Shiva known as Chithra Sabha temple. The five dance halls of Shiva are Chidambaram, Madurai, Tiruvalankadu, Tirunelveli and Courtallam. The marvelous Chithra Sabha positioned here is prominent for its stunning wall painting and carvings with a close resemblance to Chidambaram. The Chitra Sabha or the hall of pictures is located in a picturesque location, 500 m away from the main temple. Lord Shiva as Nataraja is brought here during festivals from the Kurumpalaveesar temple.
The initial Thirukkutralanathar temple was constructed by Raja Raja Chola. During the Pandyan reign, the artha-mandapa, maha-mandapa, separate temple for the goddess and several other structures were built. At the time of Nayak rule, parasakthi temple, the compound wall, sangu street, inner street and few other shrines were built.
There are the statues of Lord Vishnu, Kasi Viswanathar, Kasi Visalakshi, Tenkasi Viswanathar Swamy, Ulagammai Ambikai, Nellaiyappar Gandhimathi Ambal and Navagrahas. Lord Vallabha Ganapathy graces this holy place. Lord Muruga in the temple enclosure appears with a bow in his hand with his consorts Valli and Devasena.