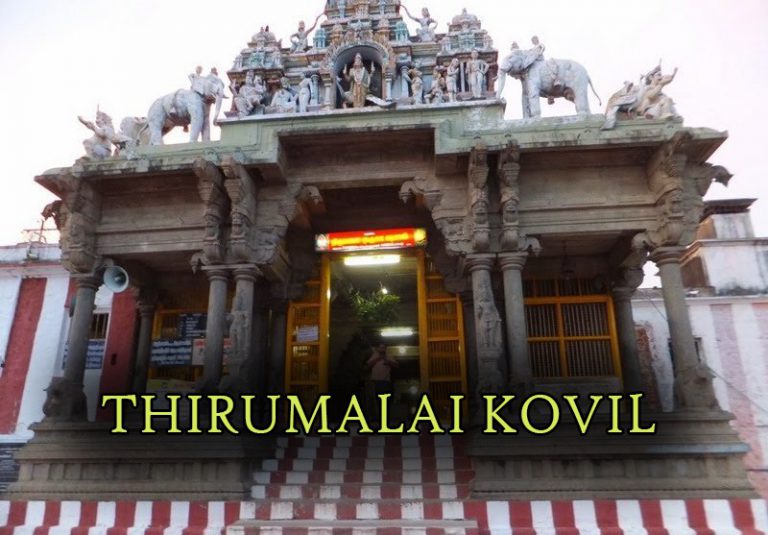 THIRUMALAI KOVIL of the lords name most of the people in this region have the name 'thirumalai'.
Distance (From Tenkasi Bus Station): 
14 Kms
Visited From: 
Tenkasi Bus Station
Trip Duration (Including Travel): 
1-2 Hours
Transportation Options: 
Bus / Cab
At a distance of 5 km from Panpoli Bus Stop, 14 km Tenkasi, 18 km from Courtallam and 71 km from Tirunelveli, Thirumalai Kovil is a Murugan temple situated at Panpoli. The temple is situated at an altitude of 400 m on a small hill surrounded by Western Ghats on the border of Kerala.
The main deity Murugan is found with four hands in the standing posture. The deity here is called Thirumalai Kumaraswamy or Thirumalai Murugan. Lord Muruga gave darshan to sage Agasthiar at this place. This temple has 2 enclosures and two entrances. The sanctum faces the east. The temple boasts a mukha-mandapa, maha-mandapa in front of the sanctum. At the entrance of the main sanctum, there is a small idol for Lord Ganesha. A three tiered gopura covers the entrance to the inner enclosure. Much of the current structure of the temple dates back to 15th century. There are few 18th century inscriptions found in the temple.
At the entrance of the hill, there is a shrine for Lord Vallabha Vinayaka. There is another Vinayaka shrine in the middle of the hill path. The sacred spring at the top of the hill is called Ashta Padmakulam. A flower called Kuvalai blossomed here. The Saptha Kannikas worshipped Muruga by offering the flower. The idols of Saptha Kannikas are installed on the banks of the spring.
There are 625 steps to reach the temple at the hill top. There is also a motorable road which can take you directly to the entrance of the temple. This hill temple is surrounded by lot of coconut plantations.
Step festival on the first of Chithirai in April, Vaikasi Visakam in May/June, Skanda Sashti in October/November, Karthikai float festival in November/December and Thai Poosam in January/February are the festivals celebrated in the temple.
Timings: 6 AM – 1 PM and 5 PM to 8.30 PM