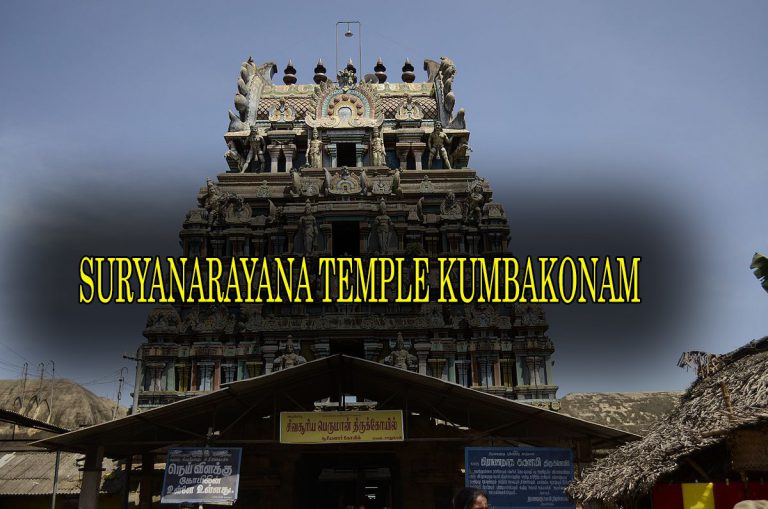 Suryanar Kovil (or) Suryanar Temple is located at Aduthurai, Tanjore district of Tamilnadu, dedicated to Sun God and hence named as Sun Temple. Suryanar Kovil is considered as one of the Navagraha temples, which houses the Sun God (Surya god). Navagraha temples are the nine temples dedicated to Navagrahas (nine planets or nine celestial bodies). The Navagrahas are believed to be the transmitters of Universal, quintessential energy or power.
Distance (From Kumbakonam Railway Station): 

15 Kms
Visited From: 

Prananadeswarar Temple – Thirumangalakudi (1 km)
Trip Duration (Including Travel): 

30 Mins – 1 Hr
Place Location: 

At Suryanar Koil
Transportation Options: 

Cab / Auto
History Suryanar Temple:
At a distance of 1 km from Thirumangalakudi Bus Stop and 15 km from Kumbakonam Railway Station, Suryanar Kovil or Suryanarayana Temple is an ancient temple located in Suryanar Kovil. It is situated on Kumbakonam – Kadhiramangalam road.
The present masonry structure was built during the reign of Kulottunga Chola in the 11th century and was called Kulottunga Chola-Marttandalaya, while the later additions were done by the Vijayanagar Kings. The Suryanarayana Temple at Suryanar Kovil is one of the Navagraha temples and is dedicated to Suryan. The temple also has separate shrines for the other eight planetary deities.
According to the legend, once Sage Kalava was suffering from leprosy, he prayed to Navagrahas. The planets were pleased by his devotion and granted his wish. Brahma was furious because nobody had the right to change the destiny of a person. He cursed the nine planets to suffer from leprosy. On being cursed, all the nine planets performed severe penance to please Lord Shiva here. Lord Shiva was apparently pleased with their penance and appeared before them. He blessed the planets that they should do all good to those who pray them with full faith and devotion.
Constructed in the Dravidian style of architecture, the west facing temple has a five-tiered rajagopuram and a gateway tower. The presiding deity is in a chariot like vimanam, representing the sun's chariot. The image of Suryanarayana is in a standing position with his two consorts, Usha & Prathyusha (Chaya). There are also shrines dedicated to Kasiviswanathar, Visalakshi and Guru Bhagavan in the sanctum.
Rath Saptami in the Tamil month of Thai and the first Sundays in the months of Aavani (Leo) and Kartikai (Scorpio) and Vijayadashami are celebrated with great devotion in this temple.
Timings: 6 AM – 12.30 PM and 4 PM – 8 PM