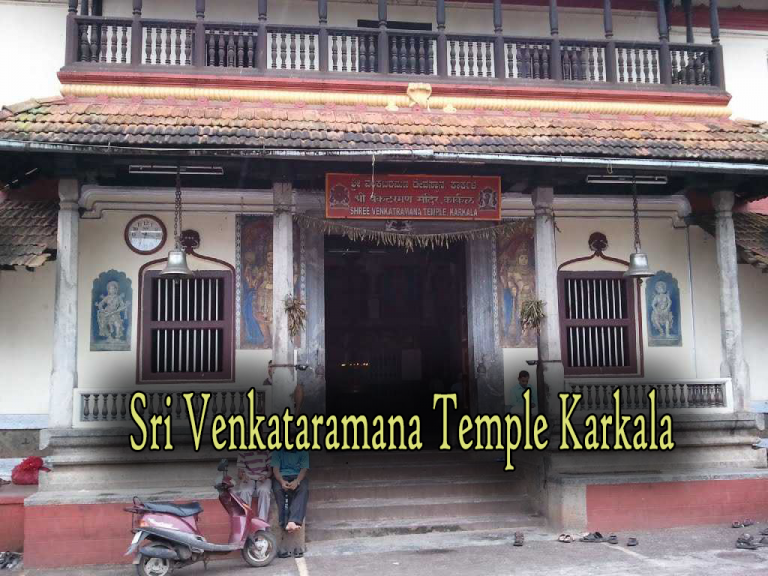 This temple is popularly known as 'Padutirupati'; 'padu' meaning 'west' in Kannada and 'tirupati' as the rites and rituals performed are similar to those of 'Tirumala'. With a history of over 550 years, this is one of the ancient temples belonging to the Gowda Saraswath Brahmin community. There is a staunch belief that prayers offered with devotion while standing inside the Garuda Mantapa are always fulfilled by the Lord.
Distance (From Udupi): 37 Kms
Visited From: 
Chathurmukha Basadi – Karkala
Trip Duration (Including Travel): 
30 Mins
Transportation Options: 
Bus / Cab
Timing: 6 AM – 1 PM and 6 – 9 PM
Travel Tips: Following places can be visited along with this place:
1. Chathurmukha Basadi – Karkala (< 1 Km)
2. Gomatheshwara Statue – Karkala (< 1 Km)
3. Neninath Basadi – Karkala (< 1 Km)
4. Ananthashayana Temple – Karkala (< 1 Km)
5. St. Lawrence Church – Attur (8 Kms)
At a distance of 37 Kms from Udupi & 50 Kms from Mangalore, Sri Venkata Ramana Temple located in Karkala is popularly known as Padu Tirupathi, which means Tirupathi of West. This temple is more than 550 years old and houses the ancient idol of Lord Srinivasa of Tirupathi.
According to legend, a family of Gowda Saraswat Brahmins brought Lord Venkat Ramana's statue from Goa, settled in Karkala and built a temple. When the rulers of Mangalore attacked the temple, the temple was destroyed and idol was lost.
It is said that the devotees had a dream directing them to go back to their place where they were directed to receive an idol of Lord Srinivasa from a saint. Their dreams come true when a Brahmin stranger gave them an idol of Srinivasa which he brought from Tirupati. The Lord is name Tirupati Chappara Srinivasa and all the poojas here are performed as in Tirupati.
The Laksha Deepothsava festival, Annual Chariot festival and Chakrotsava are the major festivals of this temple.
The Kanika received in the name of the Lord of Tirupati is offered religiously to Tirupati Temple, periodically in a pilgrimage called "Rama Dandu". So far five such Yatras in the History of the Temple, the latest being in 1970, have taken place. The temple is built in the Coastal Karnataka style of architecture.