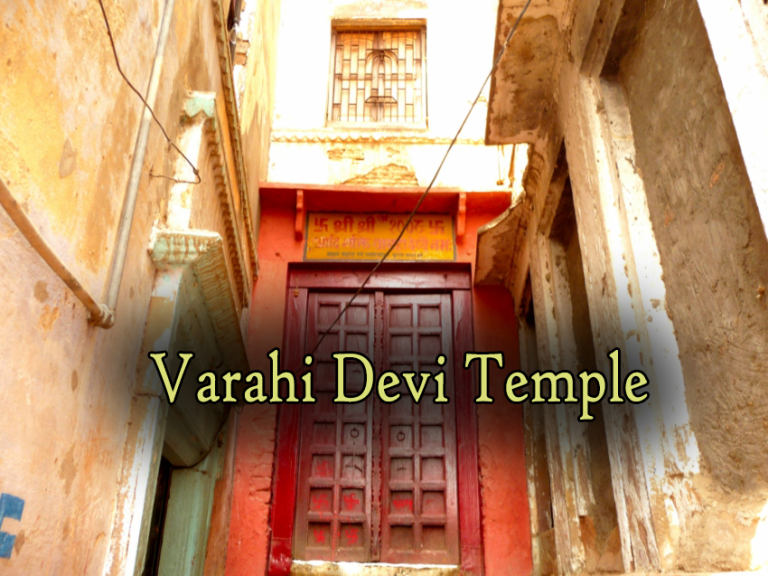 Varahi Devi is located at  Manmandir Ghat. People can travel upto Dasaswamedh Vishwanath Galli by rickshaw, enter the gulli and immediately take a right turn and proceed further for about 150 yards. They may seek guidance from the locals at that place to reach the temple.Learned Pundits believe that for getting victories in competition, litigation, court cases etc., devotees ardently pray Varahi Devi.
Timings:7AM–8PM
Sri Varahi Devi Mandir, Monday hours
Address: Dashashwamedh Ghat Rd, Near Tripura Bhairwi Ghat , Dashaswmedh Ghat, Lahori Tola, Varanasi, Uttar Pradesh 221001
Types Of Pooja:
The temple is open for worship from 05.30 a.m. to 7.30 a.m. only and remains closed for the entire day. Aarti is performed in the morning. At the time of aarti, the main door is closed. If a devotee remains inside, he can have full darshan of aarti. After the aarti, darshan is allowed for some time and the temple is closed for the day.It needs to be mentioned here that Varahi is a very powerful devi and located under the ground level. A marble slab is opened and devotees can have darshan through the opening. Except the Priest, no one is allowed to go to the underground level.
Our enquiries reveal that only regular worship is allowed in the temple and no special pooja etc. on request is allowed.
This temple is open only for two hours in the morning from 5 AM to 7 AM. This tradition has been followed for ages and no one clearly knows the reason.
The shrine is located underground and the priest has climb down steps to get inside. No one else is allowed to enter the shrine. Even the deity can be seen only through two holes on top – From one hole we can see the face and the feet from the other.
The legend is that the 64 yoginis of the divine mother settled down in Kashi along with the Varahi. There is a chousat Yogini Ghat ( meaning 64 Yoginis Ghat) where a temple for all 64 yoginis is there.
No special pujas, festivals are conducted in this temple except the daily ritual. Devotees pray for relief from legal issues, official problems etc.