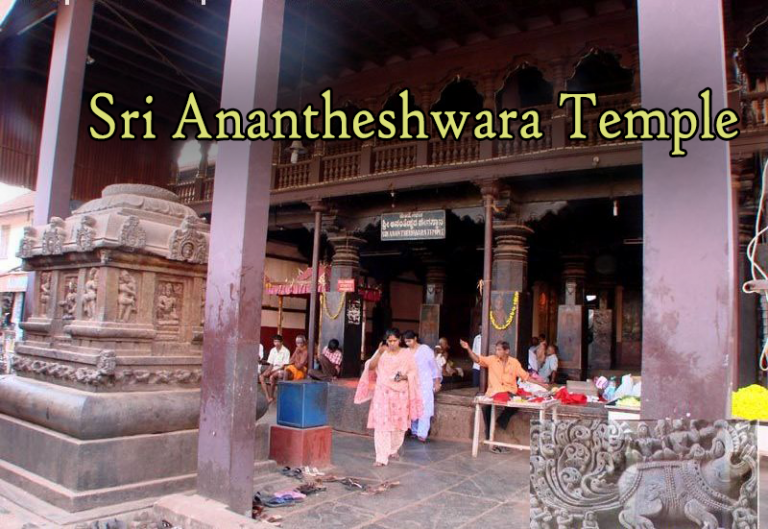 Anantheshwara temple has great spiritual and historical significance. Parents of Sri Madhvacharya (called NADILLAYAs) had worshipped the Deity of this temple continuously for 12 years to beget a child. The great Acharya was born in fulfillment of their penance. This temple was also a favorite resort of ACHYUTA PRAJNA, the ascetic, who initiated Madhva into the ascetic order. While at Udupi, Madhvacharya himself used to hold his philosophical discourses in this temple.
How to reach Sri Anantheshwara Temple
Buses, cabs and auto rickshaws are ways to get around the city. Buses generally start and end at the main bus stand, but stops at various locations throughout the city. Walking around the city when the weather is good is safe, and a good experience.
Address
 Sri Krishna Temple Complex, Thenkpete, Rathbeedhi, Udupi, Karnataka 576101
The Acharya is reported to have disappeared from human sight in his 79th year while holding a discourse on his favourite Upanishad, namely AITAREYA, at a particular spot in this temple. Since then, this spot has been adored as a sacred spot, containing the invisible presence of the Acharya.
There is another hoary shrine, known as CHANDRAMOULISHWARA, situated at a lower altitude, exactly in front of the Anantheshwara Temple. According to another legend, Shiva Linga of this shrine symbolises Lord Shiva who appeared here in response to a penance performed by Moon- God in an adjacent grove.
Many ancient temples and spots in the outskirts of the Udupi town have added to its glory as a pilgrim centre. There are four Durga temples, situated in the four corners of udupi at called Kadiyali, Bailur, Kannarpady and Puttur. Situated in villages adjacent to the town are four minor shrines dedicated to Subramanya by the legendary King Rama Bhoja. Those localities are called Muchilagodu, Mangodu, Thangodu, and Arittgodu respectively.
The sea-shore at Vadabhandeshwara (near Malpe Port) where Madhvacharya secured the image of Lord Krishna is another sacred spot, near which there is another shrine dedicated to Subramanya. Along the route from Udupi to Vadabandeshwara sea-shore there are shrines of MAHALINGESHWARA (at Bannanje) and SHANKARA NARAYANA(at Kodavooru) which had been visited by Madhva himself in his childhood. At the western end of the town, close to the national highway No 17, there is a lovely temple of Sri Janardhana and Mahakali at a place called AMBALAPADY.
Madhva's birth-place  PAJAKA KSHETRA. It is about 13 km south-east of town of Udupi, and can be reached through a motorable road via Katpadi situated on the National Highway between Udupi and Mangalore. Pajaka Kshetra is at the foot of a hill named KUNJARUGIRI. On this hill is situated an ancient awe-inspiring temple of Goddess Durga, traced to sage Parashurama. Madhva and his parents were ardent devotees of this temple. There are four THEERTHAS (holy tanks) created by Parashurama in the vicinity of this hill.