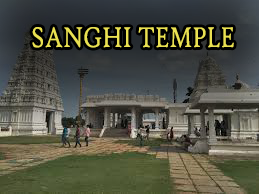 Sanghi Temple in Hyderabad is a famous temple located on the hillock named Paramananda Giri. Located in Sanghi Nagar at a distance of 25 Km from Hyderabad it has a big entrance gate or Maha Dwaram. It is one of the most sought after religious places in Hyderabad.
Distance (From Hyderabad – Nampally Railway Station): 

25 Kms

Visited From: 

Hyderabad – Nampally Railway Station

Trip Duration (Including Travel): 

4 Hours/Half Day

Place Location: 

Near NH9 Towards Vijayawada

Transportation Options: 

Bus / Cab / Auto

Timings: 8 AM to 12 PM & 4 PM to 8 PM.
There is no Entrance Fee at Sanghi Temple. The temple opens early in the morning at 5.00 am daily 'Archana' is carried out to the deities from 6 am to 8 am. General 'darshan' for the devotees is allowed from 8.30 am to 10.30 am and 4 pm to 6 pm. The temple remains closed between 12 am and 4 pm and after 8 pm.

Address: 

Omerkhan daira, Hyderabad, Telangana 501511.
Sanghi Temple Seva Timings:
The temple is opened at 5:00 A.M. to perform the Suprabhata Seva. Visitors are allowed for general darshan from 8:30 AM. Archana is performed for all the deities between 6:00 AM to 8:00 AM.
The temple remains closed between 12:00 PM to 04:00 PM and after 8:00 PM.
Festivals Celebrated At Sanghi Temple:
All Hindu festivals like Maha Shivaratri, Vijayadashami (Dussehra), Sri Rama Navami, Hanumath Jayanti and celebrated with great devotion at Sanghi Temple. The temple is full of devotees during weekends and on festival days.
Food And Accommodation At Sanghi Temple:
There are many small eateries present in the Sanghi temple premises. Hyderabad city is the best option for accommodation with many hotels and restaurants.
At a distance of 25 kms from Nampally Railway Station (near NH9 towards Vijayawada) Sanghi Temple is a picturesque complex with 15 feet tall sacred Raja Gopuram. It is situated in a hillock called as Paramanand Giri. This is one of the popular pilgrimage site & tourist place to visit around Hyderabad.
There are 3 tall gopurams seen at the foot of the hillock. The presiding deity of the complex is Lord Venkateshwara, 9.5 feet tall structure. The majestic temple complex is built in the Chola-Chalukya style of architecture.
There are small temples inside the complex dedicated to Padmavati, Shiva, Rama, Anjaneya, Ganesha, Navagrahas, Goddess Ashtalakshimi, Durga and Kartikeya. There is also a Pavitra Vanam or a holy garden in the temple complex where special leaves and flowers are grown for performing poojas.
Though Sanghi Temple is a religious site, many tourists also visit the place. Falaknuma Palace, Golkonda Fort, Birla Mandir, Chowmahalla Palace, Salar Jung Museum, Chilkur Balaji Temple, Ramoji Film City, St. Mary's Church, Shilparamam Cultural Society, Sudha Cars Museum, Nehru Zoological Park, Jagannath Temple, Numaish, Charminar, ISKCON Mandir, Surendrapuri, Keesaragutta, NTR Garden and Lumbini Park are some of the other attractions here.
As such, tourists, pilgrims, students, historians and families can have a wonderful time visiting the temple and its precincts. Reaching the temple from any part of Hyderabad is easy.