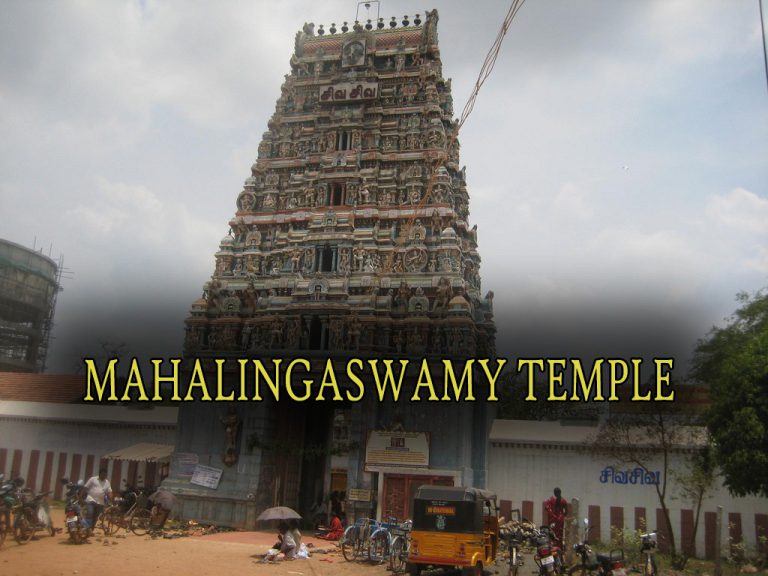 Sri Mahalinga Swamy Temple is one of the Panchakrosha Sthalas. The Ammbal Shrine is one of the Sakthi Bheetas. Chakkara Maha Meru is installed here. Uma, Vinayaka Muruga, Thirumal, Lakshimi, Saraswati, (Deities), Vashista, Agasthya, Pattinathar, Badragiriyar, Romarishi, Kapila, Markandiya rishi, (Saints). Sivavakiya (Siddhar) Varagunadeva, Sukeerthi, Veerasena, Chitrakeerthi, Uvanasuvan, Maandada, Vasuman., Anjatthuvasan (Kings), Nandagan (Brahmin), Vedas, Airawatha (Elephant vehicle of Indra) and others are bestowed with grace by the Lord. The below saints were visited and praised the lord.
Distance (From Kumbakonam Railway Station): 
9 Kms
Visited From: 
Sri Kampahareswar Temple – Thiruvarur (2 km)
Trip Duration (Including Travel): 
30 Mins – 1 Hr
Place Location: 
At Thiruvidaimaruthur
Transportation Options: 
Cab / Auto
Timings: 6 AM – 12 PM and 4 PM – 9 PM
At a distance of 400 m from Thiruvidaimaruthur Bus Stop and 9 km from Kumbakonam Railway Station, Mahalingaswamy Temple is a Hindu temple located in Thiruvidaimaruthur in Thanjavur district of Tamil Nadu.
Dedicated to Lord Shiva, the temple complex is one of the largest temple complexes in Tamil Nadu. The present masonry structure was built during the Chola dynasty in the 9th century, while later expansions are attributed to Thanjavur Nayaks during the 16th century. There are 149 inscriptions associated with the temple indicating contributions from Pandyas, Cholas, Thanjavur Nayaks and Thanjavur Maratha kingdom.
The temple has a five-tiered Rajagopuram and three precincts, each enclosed inside huge walls and having gateway towers for each of them. The temple is rectangular in plan with East-West orientation and has four entrances in each of the four directions. The three precincts are called Aswametha Pradakshina, Kodumudi and Pranava. Pranava precinct has lot of sculptures dating back to the Nayak period of the 16th century.
The Shiva Lingam here is a swayambhu (self-manifested). Shiva is believed to have appeared as a flame to please Agastya and other sages who were performing penance; hence the presiding deity is referred as Jyothirmaya Mahalingam. His consort Parvati is depicted as Pirguchuntaragujambigai. This is referred to as Madhyarjuna Kshetram.
The Ambal Shrine is one of the Sakthi Peetams and is on the right side of the main shrine. There is a separate shrine for Mookambiga Amman. There are stone images of Pattinathar and Bhadragiriyar in the eastern and western gateways of the temple respectively. There are five temple tanks inside the temple, namely Karunyamirdha Theertham, Soma Theertham, Kanaga Theertham, Kalyana Theertham and Iravatha Theertham. There are 27 other water bodies that are associated with the temple.
The most prominent festival of the temple, Thaipoosam, is celebrated for ten days during the Tamil month of Thai. During the Tamil month of Vaikasi, Tirukalyanam (sacred marriage), Ambal Tapasu (penance of Ambal), Ambal Thannai Thaane festivals are celebrated.