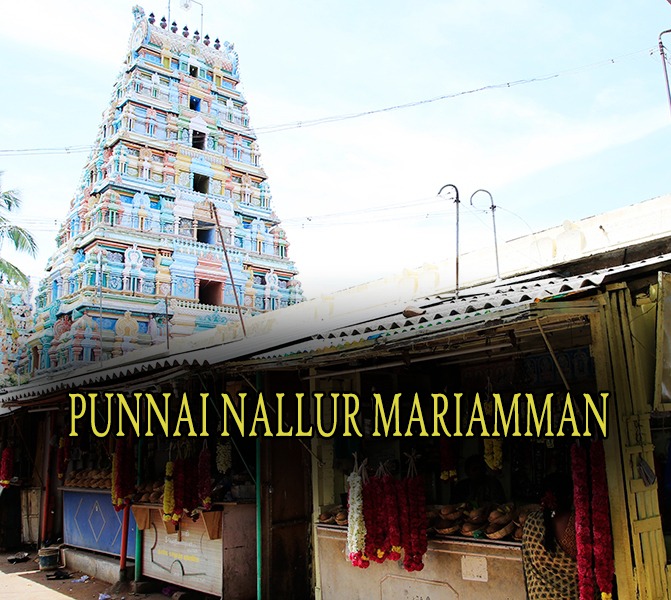 The Punnai Nallur Mariamman temple is an Hindu temple located at Thanjavur in the state of Tamil Nadu, India. The temple of goddess Mariamman is one of the famous temples around Thanjavur District.
Distance (From Thanjavur Junction Railway Station): 
6.5 Kms
Visited From: 
Thanjavur Junction Railway Station
Trip Duration (Including Travel): 
1 Hour
Place Location: 
Punnai Nallur Village
Transportation Options: 
Bus / Cab / Auto
Timings: 6 AM – 8.30 PM.
At a distance of 6.5 Kms from Thanjavur town, the Punnai Nallur Mariamman temple located in Punnai Nallur village is one of the famous temples around Thanjavur District. The temple was build by Maratta rulers of Thanjavur.
In the year 1680, the Maratta ruler Venkoji Maharaja Chatrapati (1676 – 1688) of Thanjavur was on a pilgrimage to Samayapuram Mariamman near Thiruchirappalli. After he returned to Thanjavur, Mariamman appeared on his dream and mentioned that she is residing at the Punnai forest 5 km on the east direction of Thanjavur. The King went and saw a white-ant hill and started building a temple around it. The Maratta rulers Thulaja, Serfoji also contributed to construction of the temple.
Originally the Amman was in the form of white-ant hill. The Great saint Sadhasiva Brammendra swamy shaped the white-ant hill into a form of Mariamman and also installed a powerful Chakra.
Originally the presiding Deity was consecrated by Sri Sadasiva Brahamendar. The present temple was constructed by Mahratta kings in 17 th Century, Kumbabishegam was performed in 1950 by Shri Raja Ram Raja Saheb with the blessing of Shri Padagacheri Swamigal. Further Kumbabishegam was performed in 1987. Now Renovation works are in full swing with the support of donors and Kumbabishegam is expected to be performed in 2004.