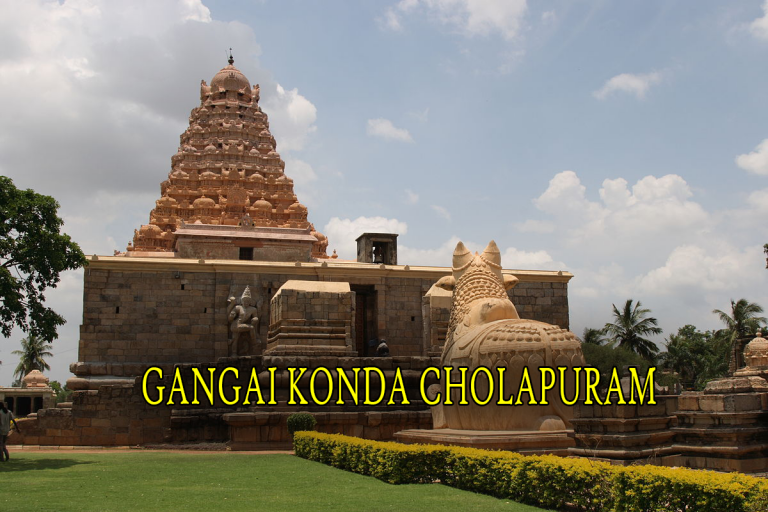 Gangaikonda Cholapuram is a town located in Ariyalur, Tamil Nadu, India. It became the capital of the Chola dynasty in c. 1025 during the reign of Rajendra Chola I, and served as the Chola capital for around 250 years.
Distance (From Chidambaram): 
42 Kms
Visited From: 
Chidambaram
Trip Duration (Including Travel): 
3 Hours
Place Location: 
Near Mamangalam, Between Kumbakonam & Vadalur
Transportation Options: 
Bus / Cab
Travel Tips: 
This place can be also visited from Thanjavur & Kumbakonam
At a distance of 42 km Chidambaram, 76 km from Thanjavur, 110 km from Trichy & 268 km from Chennai, Sri Brihadeeswara Temple is situated at Gangaikonda Cholapuram. Gangaikonda Cholapuram was the capital of Cholas. It was built by Rajendra Chola I, the son and successor of Rajaraja Chola, who conquered a large area in South India at the beginning of the 11th century. It occupies an important place in the history of India as the capital of the Cholas from about 1025 CE for about 250 years. This temple is part of the UNESCO World Heritage Site 'Great Living Chola Temples'.
After lunch, we headed off to the next temple on the route in the village of Gangaikondacholapuram, which is about 40kms south of Chidambaram. Since the name was too long to pronounce Madhu christened it GKC, which is proving to be useful while writing too. The city is said to have been built by the Chola king, Rajendra Chola I after his victorious battle against the Ganga dynasty; hence the name! The 11th century temple here is absolutely fabulous with sculptures that are said to be better in quality than the ones in Thanjavur. In fact, there are many comparisons ofthis temple to the one at Thanjavur as it's a copy of the latter, which was built by Rajendra Chola's father. The GKC one is said to be the feminine counterpart of Thanjavur because of the slight curve of the former's Vimana; the Thanjavur one has a straight-lined pyramid. These two temples and another one at Darasuram (near Kumbakonam) have been marked as the Great Living Chola Temples under the UNESCO World Heritage Sites list.