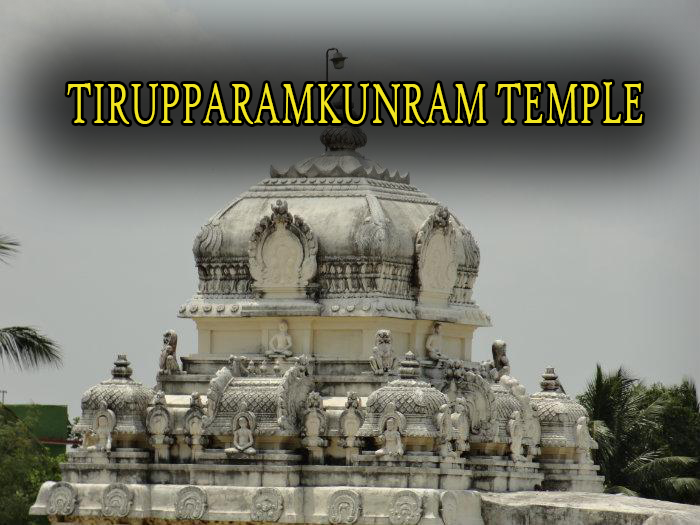 Trilokyanathar Temple. 1387 C.E. sangeetha mandapam & 17 th century paintings are present. There are three temples in the campus, one for Vardhamana and Pushpadanta and another for Padmaprabha and Vasupujya with separate sanctum sanctorum, Ardha mandapa and Mukhamandapa for each.
Distance (From Kanchipuram Central Bus Station): 
7 Kms
Visited From: 
Kanchipuram Central Bus Station
Trip Duration (Including Travel): 
1-2 Hours
Place Location: 
Near Pillayarpalayam
Transportation Options: 
Cab / Auto
At a distance of 7 kms from Kanchipuram (near Pillayarpalayam), Thirupparuthikunram is famous for two ancient Jain temples.
There are two temples dedicated to Vardhaman Mahavir and Chandra Prabha. The Vardhaman Mahavir Temple dates back to 6th century.This temple was enlarged during Chola period.The temple houses a great idol of Bhagwan Mahaveer. The height of the idol is about 6 feet and is in sitting posture. There are a series of paintings which belongs to the 14th and 17th centuries in the Sangeetha mandapa, built by Irugappa, the Vijayanagara minister in 1387 AD.
Chandra Prabha Temple is said to have been built during Rajasimha Pallava's reign in the 8th century AD. Tirthankara 'Chandraprabha' is the main deity in this temple. There is a (Tharmakura) tree here, which is about 2000 years old.
Both the temples are maintained by Tamil Nadu State Archaeology Department.
Cross the Kanchipuram Collector's office, go straight, take right. It's there," Rajkumar Jain, a retired PWD engineer, instructs over the phone when I ask the directions for our rendezvous point — Thiruparuttikundram, 5 km from Kanchipuram, also known as Jina Kanchi.
But finding Jina Kanchi is not straightforward. Unless I dive right into the annals of history, I am not going to discover the part of Kanchipuram where Tamil Jains once lived in large numbers.
"Kanchipuram once had four parts: Vishnu Kanchi, Siva Kanchi, Jina Kanchi and Buddha Kanchi, and each had a large population of followers of the respective religions," explains Rajkumar.