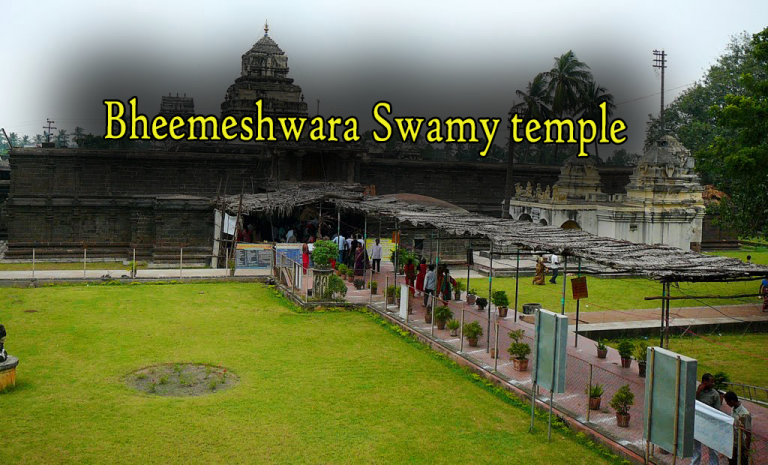 Draksharama Bheemeshwara Swamy temple. At a distance of 17 km from Kakinada, 42 km from Rajahmundry, 65 Kms from Annavaram, 197 km from Vijayawada, 198 km from Vizag & 466 Kms from Hyderabad, Draksharamam is famous for one of the pancharama temples called Draksharama Bheemeshwara Swamy temple. This temple is situated in a green belt of river Godavari. Draksharamam is among prime place to visit on a Vizag tour.
About Bheemeshwara Swamy temple In Draksharamam
This temple was constructed by the East Chalukyan king during 9th century. The temple also consists one of the Shakti Peethas called Sri Manikyamba. The speciality of this Shiva Lingam in this temple is that, the early morning tender Sun light falls on the Linga. There are nearly 800 ancient scripts on the walls of the temple. The celebrations in this temple were started during 14th century in the period of Reddy Kings. Shiva Lingam is nearly 9 ft height and the top part is seen at the first floor.
Distance (From Kakinada): 

17 Kms
Trip Duration (Including Travel): 

2 Hours
Transportation Options: 

Bus / Cab
There are other small temples inside the main temple premises. Once upon a time Draksharama was considered as a Buddhist complex.Located on the eastern bank of Godavari, Draksharama is one of the five most powerful and prominent temples dedicated to Lord Shiva in the country. 40kms away from Rajahmundry, the temple is said to be dating back to the 11th century. Draksharama is perfect for a religious getaway, the scenery around the temple is pleasant and the road journey to the temple is nothing short of beautiful.
The architecture of the ancient temple is fascinating as it adorns many inscriptions, symbols and visuals carved on them. There are several stories which go around the formation of this temple and the Sapta Godavari Kundam near the temple.
Best time to visit Draksharamam
December- February is considered the best period to pay a visit to Draksharama as the weather is the most pleasant during this time.
How to Reach Draksharamam
Air: You can board a flight to Hyderabad, it is 458 kms away from Draksharama, this distance can be covered by road. You can also take a connecting flight from Hyderabad to Rajahmundry which is 48kms away from the temple. Local cabs and buses are available to cover this distance.

Rail: Nearest stations are Kakinada, Rajahmundry and Samalkot. While Samalkot is directly connected to the metros of the country, to reach Kakinada, Rajahmundry, you will have to change once within the city.

Road: Located merely 6kms away from Ramachandran Puram in the East Godavari District, Only buses are considered suitable to reach the temple. There are buses running from various part of the country. If coming from Kolkata or North India, you will need to take NH5. People undertake a break journey and travel by train first and then take a local bus which frequently runs between Kakinada and Draksharama.

It is easily accessible by Bus from Kakinada & Rajahmundry (40 Kms).
Darashan Timings: 6 AM to 12 PM & 3 to 8 PM(open & close)
Address: Sri Bhimeswara Temple,Ramachandrapuram Mandal,East Godavari District533232 ,Andhra Pradesh, India.