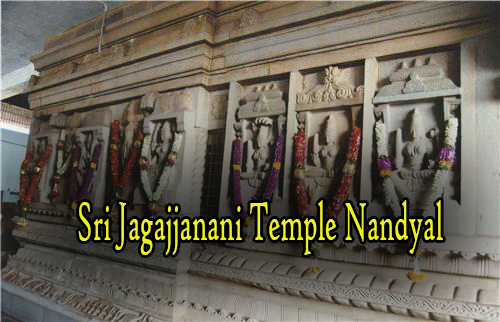 "Sri Jagajjanani Temple" is one of a kind temple, located at Nandyal in the state of Andhra Pradesh. which is 40 Kms from Nandyal. Veerabrahmendra Swamy Temple and Matam is famous in Banaganapalle.Just 25 km away from BanaganPalle, there is a 2nd largest cave in India. The name of cave is Belum Cave. Hindu pilgrimage place, which is named for Sri Yaganti Uma Maheswara Temple. This is 14 km west of Banagapalle on the Banaganapalle-Peapully road.As the name suggests, the temple is dedicated to the Mother of theworld including all Gods and Goddesses. A lot of people come here every year to visit and pray to the goddess of entire universe.
Importance of Sri Jagajjanani Temple
Importance of this temple can be understood from the fact that this is the only second temple of its kind in the whole world. The first one of this kind is located in Himalayas near Lake ManasaSarovaram, which already collapsed and that's why this is the only temple which is consisting of Sri Jagajjanani Idol in entire world.A temple dome or top is known as Gopuram in Telugu. Gopuram of this temple consist of all the forms of Gods and Goddesses including "Kalpa Vrukshamu", "Holy seven sages"," Holy seven mothers" (Saptha Matrukalu), "Mukkoti Devathalu", " Crores of living beings", "Ashtadasa Sakthi Peetalu" and "Nava Durgas". This gopuram makes it rare and sacred in itself.
The idol situated here is one of the rarest idols in the world. The architecture of the idol indicates that the entire universe, including all Gods, Goddesses and life, has emerged from the Goddess herself. It consists of 8 hands and 5 faced Shiva in her Stomach, 4 faced Brahma in her left 3rd hand and Sri Maha Vishnu at her Feet. On the right hand side, she holds Moon in 1st hand, Earth in 2nd hand, Sun, Lakshmi Devi in 3rd hand, 3rd eye, The Trisulam in the 4th hand. Brahma came from the stomach navel in thread of Lotus of Vishnu. And also she is sitting on her vehicle "lion", under a Big Snake which contains 17 heads as an Umbrella.
Legend associated with the temple states that, when Sri Jagajjanani Matha decided to start the life on earth, she came to earth and incarnated herself in Himalyas near ManasaSarovaram Lake. All gods and goddesses used to come and take a bath in the same lake and to pray the mother goddess. Sri Jagajjanani forms both the Husband and wife forms when she needs them and do not have a separate form for each of them. To start life on earth she gave her male forms as Brahma, Vishnu and Shiva and female forms as Saraswati, Lakshmi and Parvati to produce, develop and stop life on earth. It is believed that the Goddess incarnated herself in Nandyal after Himalyas.
About Poojas and Festivals in Sri Jagajjanani Temple
Pournami Poojas, Rahu Kala Poojas and Amavasya are performed on regular basis in the temple. These poojas are performed here every day as per the schedule. There is a belief among devotees that if someone starts a pooja on a particular day, he should perform the same pooja on same day for 21 weeks.
Darsan Timings:
06:00 AM to 01:00 PM and from 02:00 PM to 09:00 PM (Everyday)
Not Allowed: The Children below and equal to 15 years of age are not allowed into Inner Room (Garbalayamu) of the Sri Jagajjanani Temple.
Address:
Sri Durga Friends Unit, Sri Jagajjanani Nagar, Kurnool, Nandyal, Andhra Pradesh 518501