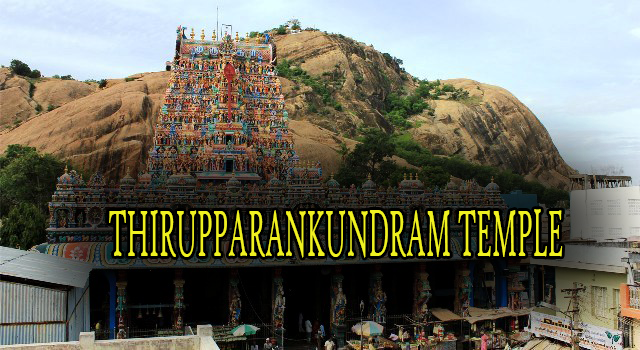 Tirupparankunram Murugan Temple is a Hindu temple and one of the Six Abodes of Murugan, located at Tirupparankunram.
Distance (From Madurai Junction): 
8 Kms
Commonly Visited From: 
Madurai Junction
Trip Duration (From Madurai Junction, Including Travel): 
1-2 Hours
Transportation Options: 
Bus / Cab / Auto
Timings : 5:30 AM to 1 PM and 4 to 9:30 PM
At a distance of 8 km from Madurai Junction Railway Station, Thiruparankundram Temple, also known as Tirupparamkunram Murugan Kovil is renowned for its 8th century rock cut cave temple dedicated to Lord Murugan (Subrahmanya). It is one of the major sacred places to visit in Madurai.
A curious feature of this temple is that the Gods Shiva and Vishnu face each other in the main shrine, which is a rare scene in ancient Hindu temples. Outside the temple there is a beautiful pond where, according to Temple tradition, the fishes are served with salt and rice flakes by the devotees.
Annual festival is celebrated in the Tamil month of Panguni (March / April) which attracts large number of devotees. Lord Muruga from here is taken in procession to Madurai to celebrate Minakshi's wedding (Chittirai festival in April / May).
Bus from Madurai to Thiruparankundram start at Periyar bus station located near Railway Station.
Tirupparankundram Temple is one of the six abodes of Murugan and considered as the first and foremost temple of Lord Muruga. Several myths and legends are associated with this temple and one of them says that it is at this place that the Lord Muruga defeated the demon Surapadman and got married to Deivayani, daughter of the king of heaven, Indra and worshipped Lord Shiva.
The main shrine is an early rock cut temple which has cells that house the sanctums of Subramanya, Durga, Vinayakar, Shiva and Vishnu. There are several mandapas in this temple known as Kambathadi Mandapam, Ardha Mandapam, and Mahamandapam situated at different levels connected by steps. There are several architectural features of interest, especially the rock cut portions of this hill temple dating back to the Pandya period and the life sized sculptures in the mandapams of the Nayakar period.
An Aasthaana Mandapam with several artistically carved pillars lead one to the Rajagopuram which is 150 feet high. The shrine, having 48 artistic carved pillars, is a large rectangular chamber excavated into the huge main rock. The sanctum sanctorum is constructed by a combination of nine minerals called Navabashana and has the statue of lord Murugan carved in his standing position.