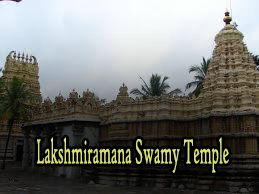 The Lakshmiramana Swamy temple in Mysore is one of the oldest temples in the city. In an inscription found at the Banni Mantapa in Mysore there is a mention of a grant for God Lakshminarayana in 1499 by the Vijayanagara King Narasa Nayaka, the father of the famous Vijayanagar emperor Krishnadevaraya. There is an inscription in the temple dated November 30, 1851, recording that Krishnaraja Wodeyar III renovated the tower built over the Mahaswara (the main entrance) Raja Wodeyar built the original tower.
Distance (From Mysore Junction): 
3 Kms
Visited From: 
Mysore Palace
Trip Duration (Including Travel): 
15 Mins or Less
Place Location: 
Inside Mysore Palace Grounds
Transportation Options: 
Walk/Trek
Travel Tips: 
The Lakshmiramana Swamy Temple is part of Mysore Palace and can be visited together.

At a distance of 3 Kms from Mysore Railway Station & 2 Kms from KSRTC Bus Station, The Lakshmiramana Swamy Temple dedicated to Lord Vishnu located inside the Mysore Palace is one of the oldest temples in the city.
The idol of Lakshmiramana is seen holding the discus and the conch. A 4 feet idol of the lord is installed in this temple. The temple was renovated and the temple tower was added in 1851. The inscription mentions that the temple received grants in 1499 from Vijayanagara King Narasa Nayaka, the father of the Vijayanagara emperor Krishnadevaraya.
According to legend, Rajakrishna Wodeyar defeated the chief of the Karughalli tribe. Raging with vengeance, the chieftain conspired with the priest of the temple to offer poisoned holy water to the king. However the priest confessed the conspiracy to the King. The king on hearing this decided to drink the poison but it could not harm him. It is said that the Lord himself saved his devoted follower. Another legendry story says that a half-blind Brahmin was cured of his blindness around 1599 at the interposition of Raja Wodeyar. To commemorate this miracle the Maharaja installed a two feet statue of himself standing with folded hands in the temple.