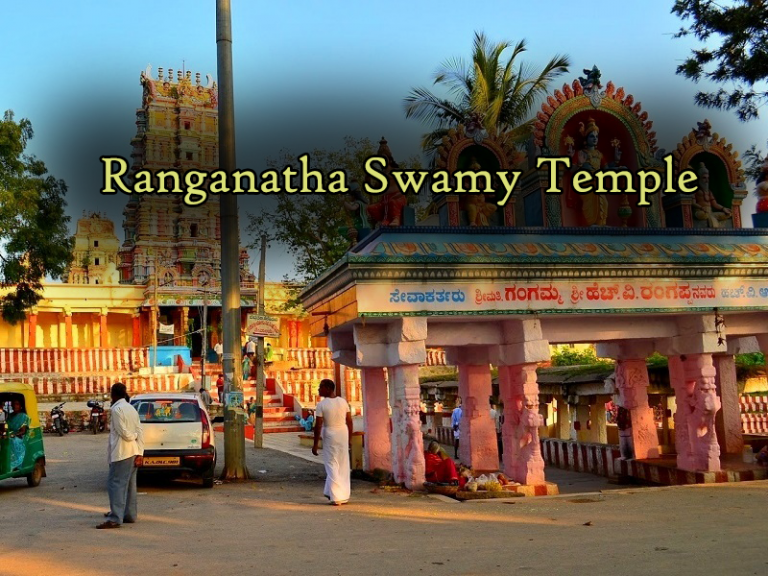 Sri Ranganatha Swamy Temple is located in Magadi. Arrange to visit Sri Ranganatha Swamy Temple and other attractions in Magadi.
Distance (From Bangalore City Railway Station): 
44.5 Kms
Visited From: 
Bangalore City Railway Station
Trip Duration (Including Travel): 
4 Hours/Half Day
Transportation Options: 
Bus / Cab
Travel Tips: 
Ranganatha Swamy Temple – Magadi, Kempegowda Fort – Magadi & Someshwara Temple – Magadi are situated near by and are visited together.

At a distance of 2 km from Magadi Bus station and 44.5 km from Bangalore City Junction, The Ranganatha Swamy Temple located in Magadi is an ancient temple and a protected monument. This is one of the popular pilgrimage sites to visit around Bangalore.
The Ranganathaswamy temple is situated on a hill called Tirumale. There is a vast Prakara with a gateway having tall Rajagopura. The sanctum of the Ranganatha temple was first consecrated in early 12th century by the Chola ruler and the temple has undergone renovations and expansion since. The beautiful gopuras were built by Vijayanagara emperor Krishnadevaraya in the 16th century and later renovated by King Jayachamaraja Wodeyar of Mysore. There are structures inside the sanctum which were also built by the Cholas and later renovated.
The temple dedicated to Lord Ranganatha is actually a standing image of Narayana about 3 ft tall in Vijayanagara style with Shankha, Chakra, Gada and Abhaya attributes in four hands. The main deity is traditionally believed to be installed by Mandavya Rishi. Gopura of the temple is in Dravidian style. There are beautiful pillars inside the temple. Usually the idol of Lord Ranganatha would be in reclining position. But here it is in standing posture. Originally it is said to be the idol of Lord Venkateshwara. During the period of Tippu Sultan, many Hindu temples were destroyed. To save this temple, they called Venkateshwara as Ranganatha, as Tippu Sultan was faithful to his god Ranganatha Swamy at Srirangapattana. One more interesting idol inside is Beleyo Ranga (Growing Ranga) which is a small idol of Ranganatha in reclining position.
There are other shrines dedicated to Rama, Sita, Anjaneya and Venugopala Krishna. Behind the main shrine, there is a small temple dedicated to Putta Ranganatha. The temple of Goddess Lakshmi is also near this shrine. There is a Garuda Sthamba (flag post) which mentions the offerings made by Emperor Krishnadevaraya in 1524 AD. The stepped well or kalyani (sacred pond) is on the right side of the temple and many rituals are conducted here.