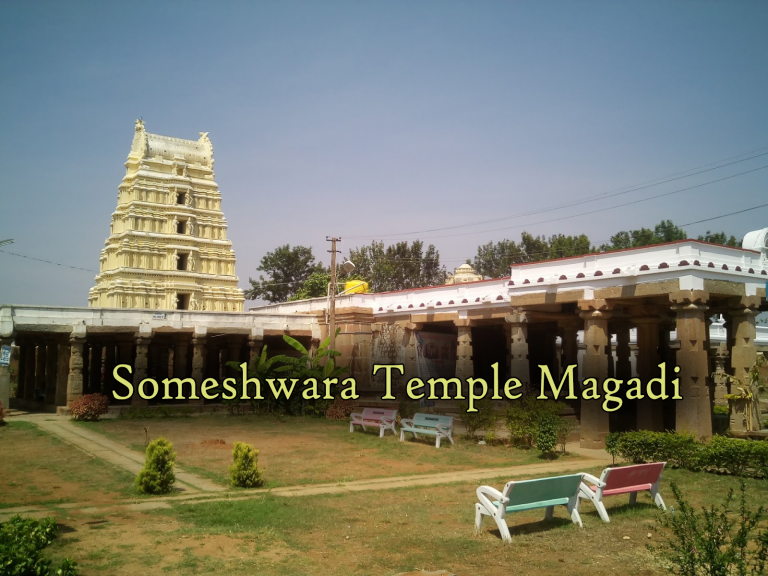 Magadi was formed during the 12 century which has seen many reigns including the Cholas , Hoysalas , Vijayanagar Kings , the Mysore Wodeyars etc. During the period of Sri.Kempegowda – the founder of Bendakaalooru ( the present Bengaluru ) , it found its heights with many reforms happening in this region.
Distance (From Bangalore City Railway Station): 
47.5 Kms
Visited From: 
Ranganatha Swamy Temple – Magadi (4 kms)
Trip Duration (Including Travel): 
1 Hour
Transportation Options: 
Cab / Auto
Travel Tips: 
Ranganatha Swamy Temple – Magadi, Kempegowda Fort – Magadi & Someshwara Temple – Magadi are situated near by and are visited together.

At a distance of 2 km from Magadi Bus station and 47.5 km from Bangalore City Junction, Sri Someshwara temple located in Magadi is an ancient structure and is a protected monument.
Sri Someshwara temple is one of the oldest and famous temples situated in Magadi town. This temple belongs to early 16th century. This temple was constructed by Sri Nada Prabhu Kempe Gowda in the year 1512. The temple occupies a large area and consists of spacious inner Prakara (courtyard) with lofty lowers and several fine mantapas. These mantapas are now in ruins due to neglect and lack of maintenance.
Sri Someshwara Temple was dedicated to Lord Shiva. There are beautiful sculptures of figures of humans, birds, animals, etc. decorating the pillars of the temple, which is built in the Hoysala style of architecture and the pillars have the typical symbols of lions, soldiers and dancing girls on them. To the left of the main temple is a small temple dedicated to Parvathi, which has small towers at the four comers of the enclosure and a large pond at some distance in the front. A short distance from the complex is a mantapa for Nandi.
Timings: 9 am – 12 pm and 6 pm – 8 pm from Monday to Friday, 6 am – 8 pm on Saturday, Sunday & Festival Days.