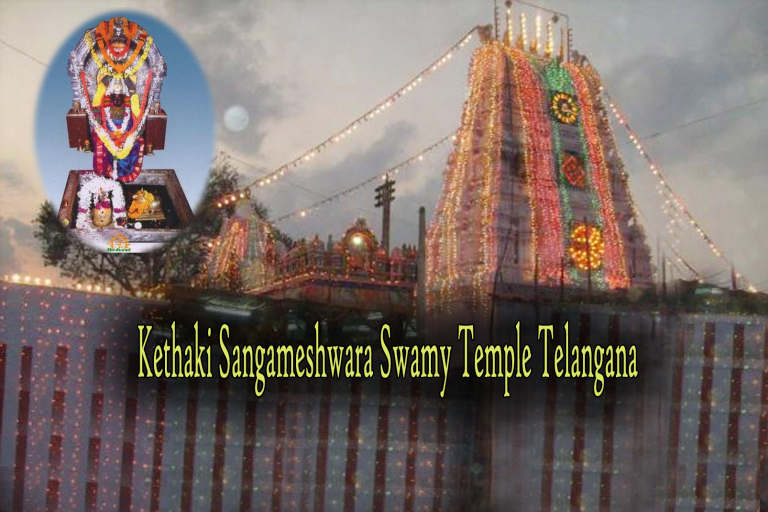 Located in the north-western part of Sangareddy (near Zaheerabad town) in the Medak District of Telangana State, Jharasangam is a quaint little town. It is more popularly known for the Sangameswara Swamy Temple, located within its ambit.
Temple Timings: 5:30 am to 9:00 PM daily
Specialty of this place:
– It is believed that Lord Brahma created Shiva Lingam in Kethaki Sangameshwara Swamy Temple.
Distance to Jharasangam Kethaki Sangameshwara Swamy Temple:
– Distance from MGBS Hyderabad is 117 Kms (2.5 hours drive)
– Distance from Zaheerabad is 17 Kms (30 min drive)
– Distance from Medak Town is 86 Kms (1.5 hours drive)
Accomodation:
– Jharasangam village don't have proper accomodation facilities. Alternately one can stay at Hyderabad or Medak Town and reach this place.
– Medak provides ample accommodation options that are clean, comfortable and affordable. Moreover, being quite close to Hyderabad, tourists can also travel to Medak on day trips from Hyderabad.
– At Medak Anjagoud Hotels, Green Corner Hotel and Manama Hotel are some of the best accommodation options which can be explored.
Nearby Tourist Attractions:
– Medak Cathedral
– Pocharam Dam Reservoir
– Pocharam Wildlife Sanctuary
– Medak Fort
Generally Kethaki Leaves should be offered to Lord Shiva Lingam but this is the only temple where Kethaki leaves are offered to Lord Shiva Lingam. It is believed that Lord Brahma after creation of World visited this placed for meditation.
The temple is a popular destination for devotees from Telangana, Karnataka and Maharashtra area who throng to offer their prayers and seek the blessings of Lord Trimurti.
One day while in the forest for hunting he reached Kethaki Vanam where he found a stream and washed his body, he was surprised to see his body cleansed and the same night Lord Shiva showed up in his dreams and asked him that he wanted the king to construct a sanatorium on the Shiva lingam. Raja Kupendra constructed a temple and dedicated it to Lord Shiva to show his gratitude. Pushkarni which came to be known as "astha theertha amrutha gundam" and is called as "Dakshina Kasi". Gundam pooja is performed by followers from Karnataka, Maharashtra and Telangana due to its religious and historical importance and pays homage to Lord Shiva.