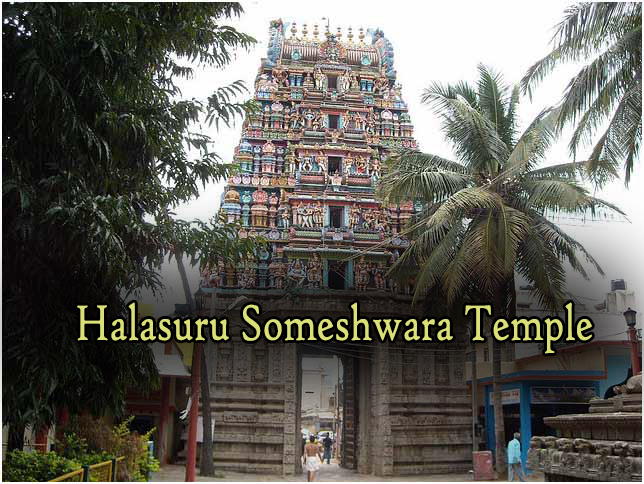 Halasuru Someshwara Temple is located in the neighborhood of Halasuru in Bangalore, The oldest temple in the city dating back to the Chola period, it is dedicated to the Hindu god Shiva.
Distance (From Bangalore City Railway Station): 
8 Kms
Visited From: 
Bangalore City Railway Station
Trip Duration (Including Travel): 
2 Hours
Place Location: 
In Ulsoor
Transportation Options: 
Cab / Auto / Bus
At a distance of 8 Kms from Bangalore City Railway Station, The Someshwara temple is located at Ulsoor, one of the older areas of the Bangalore city. This temple is dedicated to Lord Shiva. This magnificent temple was built by Hoysalas between 12th and 13th centuries, the impressive Rajagopuram and the compound of the temple was built by Kempegowdas in 16th century. The temple is being maintained by Endowment Department of the Karnataka Govt. The main temple architecture is unique, with multiple pillars and scriptures inscribed on the walls. Strike these pillars when there is pin drop silence, they sound like guitar.
This temple houses other deities of Kamakshamma, Arunachaleswara, Bhimeswara, Nanjundeswara and Panchalingeswara. The specialty of the temple is that Brahma and Vishnu are also worshipped here. On the eve of Shivarathri, devotees flock to the Someshwara temple in large numbers.
The temple celebrates Brahmotsavam and Kamakshamma Pallaki Utsava festivals in April.