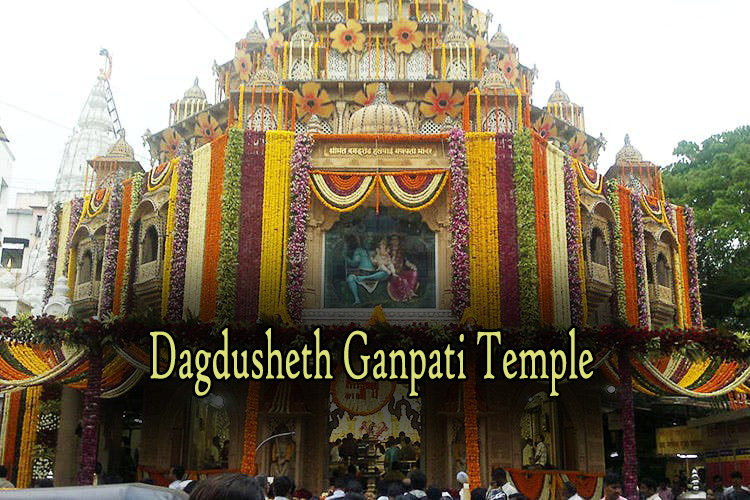 Dagdusheth Ganpati Temple, Shreemant Dagdusheth Halwai Ganapati Temple in Pune is dedicated to the Hindu God Ganesh. The temple is popular in Maharashtra and is visited by thousands of pilgrims every year.
Distance (From Pune Railway Station): 
4 Kms
Visited From: 
Shaniwar Wada ( 700 m)
Trip Duration (Including Travel): 
30 Mins – 1 Hr
Place Location : 
In Budhwar Pet Near Shaniwar Wada
Transportation Options : 
Walk/Trek
Timings: 6 AM to 11 PM.
At a distance of 4 km from Pune Junction, Dagdusheth Halwai Ganapathi Temple is an ancient Hindu temple situated in Budhwar Pet near Shaniwar Wada in Pune City. This is one of the important Ganesh temples in Maharashtra and also one of the popular tourist places in Pune.
Sri Dagdusheth Temple is dedicated to the Hindu God Ganesh. The temple was built by Dagdusheth Halwai, a sweet seller. In late 1800s, he lost his son in a plague epidemic. This caused Dagdusheth and his wife to go into deep depression. To heal them, he built the Ganesh temple in 1893 AD according to their Guru Sri Madhavnath Maharaj's advice. Every year the Ganapathi festival was celebrated with deep faith and enthusiasm not only by Dagdusheth's family but the entire neighbourhood. Later, Lokmanya Tilak made Ganapathi festival a public celebration to bring people together for the freedom struggle.
The temple is simple and yet beautiful, that allows the devotees to catch a glimpse of the Ganesh idol and watch the aarti and the puja even from road. The Ganesh idol is 7.5 feet tall and 4 feet wide. The idol of Ganapathi has a solid gold ear and is decorated with nearly 8 kilos of gold. The Ganesh idol, adorned by gold and precious jewellery worth of 1 crore. The temple is visited by thousands of pilgrims every year during annual 10 day Ganapathi festival. Daily puja, abhisheka and the aarti of Lord Ganesh are worth attending. The lighting of the temple during the Ganesh festival is marvelous.
Presently, the temple is under the administration of Halwai Ganapathi Trust. One of the richest in Maharashtra, the trust organises various cultural activities like singing concerts, bhajans, Atharvasheersh recitation etc. The trust also operates an old age home – Pitashree at Kondhwa, ambulance service for poor and health clinics in tribal belts of Pune.