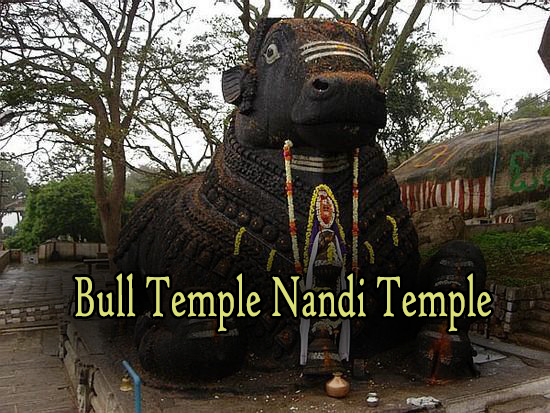 The "Bull Temple" is found in Bangalore the capital of Karnataka. , the bull is honoured as Shiva's mount in this temple on the same platform as the Vishvanath Temple.
Distance (From Bangalore City Railway Station): 
5 Kms
Visited From: 
Bangalore City Railway Station
Trip Duration (Including Travel): 
1-2 Hours
Place Location: 
Basavanagudi
Transportation Options: 
Bus / Cab / Auto
Travel Tips
 1. This place is close to Dodda Ganapathi Temple and can be visited together
2. Sri Gavi Gangadhareswara Temple is about 1 Km from here and can be visited together
Timings: 6 AM to 8 PM
At a distance of 5 km from Bangalore City Railway Station, Bull Temple also known as Basavanagudi Nandi Temple is situated on top of a hill at Basavanagudi. This Hindu temple is situated inside a park called Bugle Rock. The temple is dedicated to sacred bull Nandi, the vehicle of Lord Shiva. This is one of the oldest temples of Bangalore and also one of the top pilgrimages & tourist attractions in Bangalore city.
The temple was built in 1537 by Kempegowda in Dravidian style. The temple is relatively small in size, but houses one of the largest monolithic Nandi statues in the world which measures 4.5 meter in height and 6 meter in length. The temple also houses the idols of God Surya and Chandra, on their chariots. A 17th century inscription at the base of the structure mentions about a stream called Vrishabhavathi that originated here. The tower over the shrine was constructed in early 20th century and is adorned with figures of gods and motifs.
As per legend, a bull used to destroy the groundnut crops, enraging a farmer who hit the bull with a club. The bull sat stunned and was suddenly transformed into a stone. The shocked farmer decided to build a temple to please the bull, but was shocked to see that the bull was growing in size. The worried farmer then prayed Lord Shiva who advised him to retrieve a trident buried a few feet away from the bull and place the trident on the forehead of the stone statue to stop it from growing. As a tradition, the farmers of Basavanagudi organize a Groundnut Fair known as Kadalekayi Parashe, near the temple, during November and December, offering their first harvest to the bull.
The Bugle Rock Park and Kempegowda's watch tower on the rock are worth seeing. The rock is 3000 million years old and is contiguous to the Lalbagh rock. Kempegowda, who built four watch towers around Bangalore, constructed one at Bugle Rock to mark the city's southern boundary.