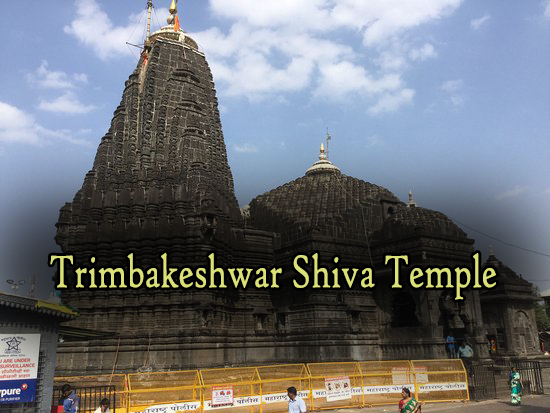 Trimbakeshwar Temple is built by Sri Nana Saheb Peshwa in 1755-1786 AD. The presiding deity of the temple is Lord Shiva as Trimbakeshwar. The extraordinary feature of the Jyotirlinga located here is its three faces embodying Lord Brahma, Lord Vishnu and Lord Rudra.
Distance (From Nashik CBS Bus Station): 

28 Kms

Visited From: 

Nashik CBS Bus Station

Trip Duration (Including Travel): 

3-4 Hours

Transportation Options: 

Bus / Cab

Temple Timings: 5.30 AM – 9 PM.

At a distance of 28 km from Nashik, Trimbakeshwar or Tryambakeswar is a small pilgrimage town located on the banks of River Godavari at the foothills of Brahmagiri Mountains in Nasik district of Maharashtra. Trimbakeshwar is famous for Trimbakeshwar Temple which is one among the 12 Jyotirlinga temples of Lord Shiva and is also one of the most popular Maharashtra places to visit.

Temple Timings:

Darshan timings are from 5:30 am to 9:00 pm. Rudrabhishek timings are from 7:00 am to 8:30 am. Special poojas are at 7:00 am, 1:00 pm and 4:30 pm. Special Poojas include Rudrabhishek, Mrityunjaya Mantra and Laghu Rudrabhishek. General darshan is allowed from a distance of 5 meters.

The Darshan timings of Trimbakeshwar Temple are as follows:

| TIMINGS | FROM | TO |
| --- | --- | --- |
| Darshan | 5:30 AM | 9 PM |
| Special Poojas | 7 AM | 9 AM |
| Madhyana Pooja | 1 PM | 1:30 PM |
| Golden Crown of Shiva | 4:30 PM | 5:00 PM |

The general darshan is allowed from a distance of about 5 meters and only devotees who want to perform special Poojas are allowed to enter the main sanctum and touch the Linga.Special Poojas include Rudrabhishek, Mrityunjaya Mantra and Laghu Rudrabhishek.

On every Monday of the month, a procession is carried out in a Palki, which carries the silver Panch Mukhi Mukhota from the Trimbakeshwar Temple to the Kushavarta tank and back.

Trimbakeshwar Temple Dress code:

The devotees coming for general darshan do not have to follow a strict dress code. However, male devotees who opt for performing a special Pooja inside the sanctum should wear a white dhoti and a towel. The dress will be provided by the Pundits if required.

Trimbakeshwar Temple Abhishek Timings:

| Days | Abhishek Types | Abhishek Timings |
| --- | --- | --- |
| Mon to Sun | Antaralay Abhishek Timings | 06:00 to 07:00 |
| Mon to Sun | Abhishek Outside Temple | 06:00 to 12:00 |

Note:

1) The Timings of Morning & Evening Abhishek might change during festivals & Special Days.
2) For Antaralay Abhishek will be done by the group of devotees.
3) No tickets for for Abhishek. Amount to be paid only for the Pundit.

Festivals Celebrated in Trimbakeshwar Temple:

| Festival Name | Month |
| --- | --- |
| Kumbah Mela | Every 12 Years |
| Ganga Godawari Festival(12 Days) | November |
| Maha Shivaratri | Febraury |

A crown studded with precious stones rests on top of this Linga, which is said to be from the age of Pandavas. This crown is decorated with various precious stones like emeralds, diamonds and many other varieties. The crown is displayed every Monday from 4 PM – 5 PM.

The temple is built of black stone in the Nagara style of architecture and is enclosed in a spacious courtyard. The sanctum internally a square and externally a stellar structure houses a small Shivlingam – Tryambaka. The sanctum is crowned with a graceful tower, embellished with a giant Amalaka and a golden kalasha.

Gangadwar, Brahmagiri, Caves of 108 Shivalingams, Parashuram temple, Bilwa Tirtha, Gautama Tirtha, Indra Tirtha and Ahilya Sangam Tirtha are some other places which can be visited in Trimbakeshwar. It also has a number of ashrams devoted to Ashtanga Yoga, the Hindu art of living. It is also famous for lots of religious rituals such as Narayan Nagbali, Kalsarpa Shanti, Tripindi Vidhi, etc. Of these, the Narayan Nagbali ritual is performed only at Trimbakeshwar.