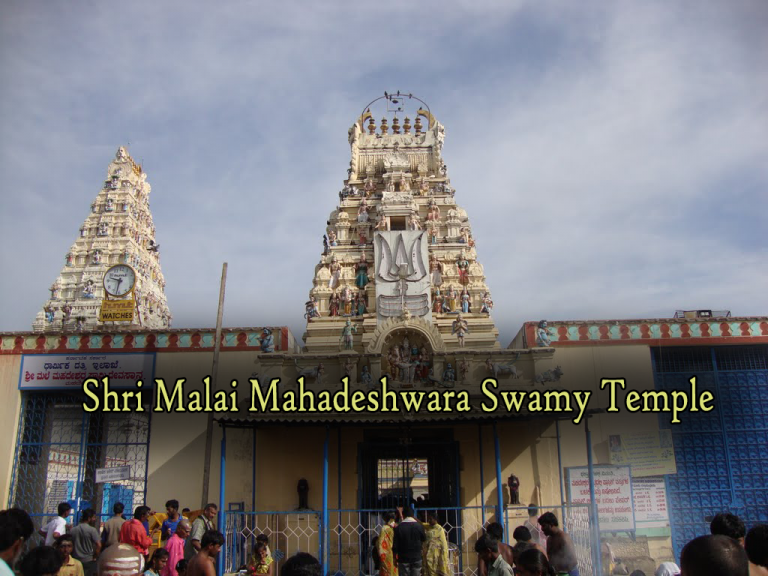 Male Mahadeshwara Betta is a pilgrim town located in the Hanur taluk of Chamarajanagara district of southern Karnataka. It is situated at about 150 km from Mysuru and about 210 km from Bengaluru
Distance (From Mysore): 
135 Kms
Trip Duration (Including Travel): 
Full Day
Transportation Options: 
Bus / Cab
Timings: 5.30 AM – 12.30 PM and 6.30 PM – 8.30 PM
At a distance of 135 km from Mysore, 89 km from Hogenakkal, 72 km from Kollegal & 209 km from Bangalore, Male Mahadeshwara Betta, also known as MM Hills is a sacred place situated in the eastern parts of Kollegal taluk in Chamarajanagar district of Karnataka. It is situated at an altitude of 3000 feet. This is one of the top attractions you must include in Mysore packages.
Male Mahadeshwara Hills is surrounded by dense forest and is famous for Malai Mahadeshwara Temple dedicated to Lord Mahadeshwara. The ancient and sacred temple of Sri Male Mahadeshwara is a very popular Shaiva pilgrim center and one of the most powerful Shiva temples in the region. The temple is surrounded by 77 hills of the Eastern Ghats. The temple draws large number of pilgrims from the states of Karnataka and Tamil Nadu.
The Mahadeshwara Temple was built by Junje Gowda Rich Kuruba Gowda Landlord. The Lord Sri Mahadeshwara is believed to be the incarnation of Lord Shiva. Historical evidences suggest that the Saint Mahadeshwara came here in 15th century to perform penance and it is believed that he is still performing penance in the temple's garbha gudi in the form of a linga. The linga, worshipped now in the garbha gudi, is a self-manifested one. Sri Male Mahadeshwara Swamy was moving on a tiger known as Puli Vahana (Tiger as a vehicle) and performed a number of miracles around the Betta to save the people and saints living there.
There is water stream flowing from a perennial source called antaragange where devotees take a holy bath. The temples of Gangadhareswara and Lakshminarayana are worth visiting. Other Shrines to visit here are Nagamale, Adi Madappa, Indi Basaveshwara, Goujala Katte Basaveshwara, Bale Kallu Basaveshwara, Tapasare, Paada Dhare, Karaiah's Boli and Kanave Basappa. Hogenakkal falls is also located nearby.
The place is also known for its scenic beauty as it's situated in dense forest surrounded by the Kaveri and Palar Rivers. The Malai Mahadeshwara forest reserve has an area of approximately 39361.45 ha. The forest is inhabited by a variety of animals, birds and reptiles. They are found in large numbers too. Elephants are the most prominent species.
MM Hills offer great trekking opportunities. The Forest department has identified many trekking trails and conducts trekking activities through the forests. There are two important trekking trails that start from MM Hills, one is Nagamale and other is Palar. Nagamale trek is about 7 km from MM Hills. There is a temple dedicated to Lord Shiva at Nagamale. Palar is further 8 km trek from Nagamale which is usually done as a 2-day trek with overnight stay in forest rest house. The scenery throughout our trek was beautiful. Prior Permission is required from forest department for trekking.
The temple administration runs accommodation facilities near MM Hills temple which can be booked over phone. The guest houses include Mahadeshwara Bhavana, Gurudarshini, Giridarshini, Shivadarshini etc. They provide free food for all pilgrims at the Dasoha Bhavana.
Male Mahadeshwara Hills is well connected by roads various tourist and private buses ply from Mysore to Male Mahadeshwara Hills frequently.
The best time to visit MM Hills is from October to March. The main festival of the temple is Maha Shivratri. During Deepavali festival a grand celebration can be seen in MM Hills.