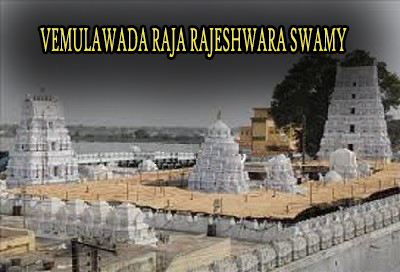 Vemulawada Sri Rajarajeshwara Temple is one of the oldest abode of Lord Shiva in Telangana.Vemulawada was once the Capital of Chalukyas called "Chalukyas of Vemulawada".The present temple was constructed by the Chalukyas who ruled the Karimnagar region from 750 AD to 973 AD.
Ideal Trip Duration: 

Full Day

Base Station: 

Vemulawada, Karimnagar (36 Kms)

Nearest City to Vemulawada: 

Hyderabad (151 Kms)

Best Time to Visit Vemulawada: 

November to March

Peak Season: 

December to February

State: 

Telangana

 

 

District: 

Karimnagar

Temple Timings: 4 am to 9 pm.
Agraharam Hanuman Temple, Baddi Pochamma Temple and Nampally Gutta are the nearby attractions of Vemulawada.
Every year at the time of Maha Shiva Rathri, more than 5 lakh people visit Vemulavada. During Sravana Masam and Karthika Masam, the temple attracts large crowd.
Accommodation is also available in Vemulawada if you are planning to stay a day.
Address: 

Vemulawada Devasthanam Road, Rajanna Siricilla Dist., Vemulawada, Telangana 505302
DAILY PUJAS AND SEVAS OFFERED TO THE DEITY
| | |
| --- | --- |
| Mangala Vaidyam | from 4.00 AM to 4.10 AM |
| Suprabhata Seva | from 4.10 AM to 4.30 AM |
| Prabhata Harathi | at 4.35 AM |
| Aalaya Suddhi [Cleaning] | from 4.35 AM to 5.00 AM |
| Gomatha Puja & Kode Puja | from 5.00 AM to 5.15 AM |
| Prathakala Puja | from 5.15 AM to 6.15 AM |
| Nithya Kalyanam | from 10.30 A.M. to 12.30 P.M. |
| Madhyanhika Puja & Nivedana & Anna Puja. | from 11.40 AM to 12.10 PM |
Note: During Monday, Masa Sivarathri & Sani Thrayodasi days, Madhyanhika Puja & Nivedana & Anna Puja would be performed from 2.30 PM to 3.00 PM
| | |
| --- | --- |
| Pradosakala Puja | from 6.00 PM to 7.00 PM |
| Nishikala Puja | from 9.00 PM to 10.00 PM |
| Pavalimpu Seva | from 10.00 PM to 10.20 PM & temple would be closed |
Note: During Mondays which are not covered with the Thithi i.e., Eakadasi, Dwadashi, Sankramana, Masa Sivarathri, Bahula Astami etc., Eakantha Seva would be performed to the deity.
TIMINGS FOR DARSANAM & ARJITHA SEVAS:
| | |
| --- | --- |
| Sarva Darsanam | from 4.35 AM to 5.00 AM |
| Dharma Darsanam & Abhisekam | from 6.15 AM to 11. 30 AM |
| Darsanam & Anna Puja | from 12.10 PM to 2.00 PM |
| Darsanam & Bilvarchana, Sivarchana. | from 2.30 PM to 5.55 PM |
| Darsanam & Aakula Puja, Maha Puja, Pallaki Seva, Pedda Seva | from 7.10 PM to 9.00 PM |
Note: During Monday, Masa Sivarathri and Sani Pradosam, Abhisekam would be performed from 6.15 AM to 2.30 PM & Anna Puja would be performed from 3.00 PM to 5.00 PM and Bilvarchana would not be performed
| | |
| --- | --- |
| Sathyanarayana Vratham | from 1.00 PM to 3.00 PM |
| Kalyanam | from 10.30 AM to 12.30 PM |
| Maha Lingarchana | from 6.30 PM to 8.30 PM |
| Kumkuma Puja | from 6.15 AM to 8.30 PM |
| Kode Mrokkubadi | from 6.15 AM to 8.30 PM |
| Gandadeepa Archana | from 6.15 AM to 8.30 PM |
Note: During Monday and other peak days when the inflow of pilgrims is at very high side Kode Mrokkubadi Puja would be started at 4.30 AM for the convenience of the pilgrims.
At a distance of 36 km from Karimnagar, 127 km from Nizamabad and 151 km from Hyderabad, Vemulawada is one of the most famous pilgrimage sites in Telangana and also one of the popular one day trip from Hyderabad.
Shri Raja Rajeshwara Swamy temple is one of the ancient and famous Shiva temples in the Andhra Pradesh. The shrine in the temple is famous for the architectural grandeur and spiritual sanctity and is one of the famous Shaivite temples in Andhra Pradesh State. The presiding deity of the temple is Lord Raja Rajeshwara in the form of "Neela Lohitha Shiva Linga" known for his boundless benevolence in fulfilling the wishes of the devotees.  This shrine of the temple is popularly known as  'Dakshina Kasi'  and also as "Harihara Kshetram" ,  there being two Vaisnava temples in main temple complex.
Bhavishyothara Purana mentions that the Sun-God [Surya Bhagavan] recovered from disability by praying at the shrine here and so this shrine is termed as "Bhaskara Kshethram". Indra- the King of Astadikpalaka by devoutly worshipping Lord Shri Raja Rajeshwara-the presiding deity of the shrine, purified himself from Brahmahatya Dosham.
Vemulawada is famous for the temple of Rajarajeshwara Swamy, an incarnation of Lord Shiva. It was built by one of the governors of Kalyani Chalukyas by name Rajadithya between 11th and 12th centuries. The presiding deity is locally popular as Rajanna who is accompanied by the idols of Sri Raja Rajeswari Devi and Siddi Vinayaka. It houses several temples dedicated to other deities including Anantha Padmanabha Swamy, Bhimeshwara Swamy, Kodanda Rama and Kasi Visweswara. Apart from these there is a tomb of Muslim saint.
Located on the banks of Mulavagu stream, Vemulawada was once the capital city of Vemulawada Chalukyas dynasty between 750-973 CE. The remains of the temples and sculptures show the great architecture of Chalukyas. There are several inscriptions available that refer the reign of Chalukyas. It was earlier known as Lemulavatika, Lembulavade, and finally transformed into Vemulawada.
According to the legend, Lord Siva after having stayed aKashi, Chidambaram, Srisailam and Kedareswar chose to reside at Vemulawada. Vemulawada was ruled by the dynasties of Ikshwakus, Satavahanas and the Chalukyas who made it their state capital. The place is also associated with the 11th Century Telugu poet, Vemulawada Bheemakavi.
The temple picturesquely stands on the bank of a large tank  called as Gudicheruvu. The Garbha  Griha  has "Shri Lakshmi Ganapathi". Lord Raja Rajeshwara appears in the form of Neelalohitha Shiva Linga.  Goddess Shri Raja Rajeshwari Devi and Nandeeshwara are seen facing the Lord. The temple encloses Shri Anantha Padmanabha Swamy ,  Shri Seetharama Chandra Swamy , and  Shri Anjaneya Sahitha Kasi Visweswara Swamy.
Other deities in the temple are Shri Dakshina Murthy, Shri Valli Devasena Sametha Subramanya Swamy, Shri Bala Tripura Sundari Devi, Shri Someshwaralayam, Shri Uma Maheshwaralayam, Shri Mahisasura Mardhani, Kotilinga, and  Shri Kala Bhairava Swamy.