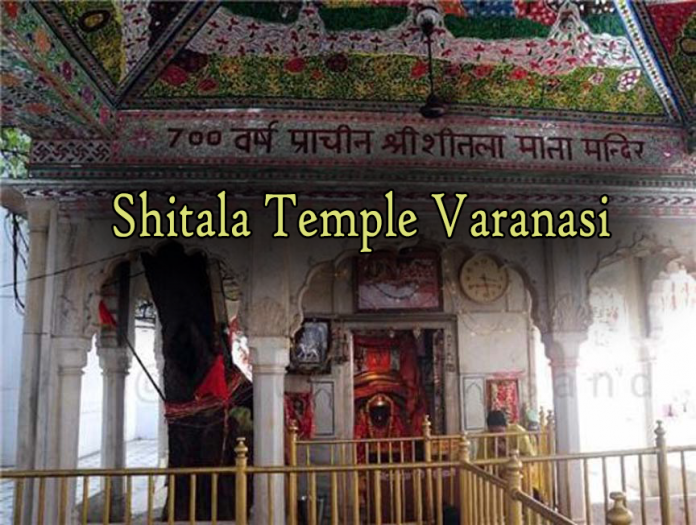 Shitala Ghat just by the side of the more outstanding Dasashwamedh Ghat is the Shitala Temple. Whitewashed and stark, this temple is dedicated to Shitala Devi who is known to be the Goddess of Smallpox and Chickenpox. Staunch Hindu devotees believe that she protects them from these diseases. Nearby is also a small shrine dedicated to Santhoshi Maata – the Mother of Pleasure.
Address:
Shitala Ghat, Near Bundi Parkota Ghat, Maidagin, Ghasi Tola, Varanasi, UP.
Open & Close Temple:
Open on all days – 24 X 7
Entry Fees:Nil- No Ticket
Duration:Approx 30 minutes
Famous For: Shitala Mata temple
Festivals celebrated in Sheetla Mata Mandir Gurgaon:
Sheetala Ashtami– this festival is very much popular among Hindu and is dedicated to Goddess Sheetala. This festival is also known as Basoda Puja. It is celebrated on the eighth day of the Krishna during the Hindu month of 'Chaitra'. It corresponds to the month of mid-March to April in the Gregorian calendar. Sheetala Ashtami is celebrated Holi, generally after eight days. But in some communities, it is celebratedon the first Thursday or Monday that comes after Holi. Also in some districts, Sheetala Ashtami is observed on the 'ashtami' of the Krishna Paksha, every month, but of all these, the Chaitra Krishna Paksha Ashtami is considered most propitious.
Accomadiation:
These hotels and private organizations donot charge high keeping the budget and the needs of the customers. They provide a very pleasant environment and stay for the tourist. They provide clean and healthy home-made food for the tourist. Nowadays, all the hotels provide tourists with wifi facility so that they can enjoy their stay more and remain connected to the whole world.
Apart from the prasad provided in the temple, one can also have food from hotels outside the campus. These hotels provide clean and hygienic food. There are various other places to eat food. There are many hotels and cafe which provide food keeping the taste and needs of the devotees. They cost very nominal keeping the needs and budget of the tourists.
It houses the image of Shitala Devi, and the pindas of the 'Saptamatrikas' (the seven mother forms). It is widely revered and worshiped for the cures for the small-pox as well as for fulfilling all sorts of desires. The site once contained several ancient and medieval sculptures. Of these, at least one was that of the Yaksha of the Mauryan art-affiliation.
However, the statues have no existing record as of now. The site is situated at a short distance south-west of Gulzarbagh station. It is barely one kilometer away from the archaeological ruins of Kumhrar Park.