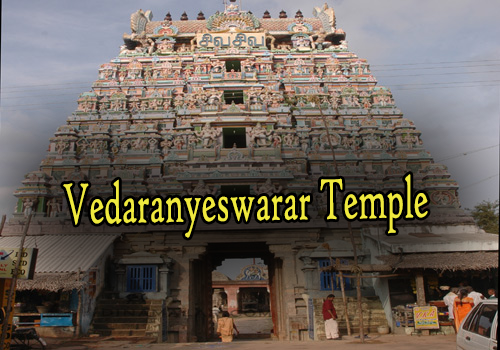 Vedaranyam Vedaranyeswarar is a Hindu temple dedicated to Lord Shiva and is based in a small town in TamilNadu Vedaranyam and at a distance of 45 km from Nagai. This temple is referred in the Tamil canonical art work of 7th century, which is a poem written by Tamil saint.
Distance (From Thanjavur): 
106 Kms
Visited From: 
Point Calimere
Trip Duration (Including Travel): 
1 Hour
Place Location: 
Near Point Calimere In Nagapattinam District
Transportation Options: 
Cab / Bus
Travel Tips: 
This place is usually visited from Nagapattinam (47 Kms)

At a distance of 106 Kms from Thanjavur and 47 Kms from Nagapattinam (which is 85 Kms from Thanjavur), Vedaranyam, located near Point Calimere is famous for Vedaranyeswarar temple dedicated to Shiva. The goddess is Vedanayaki and Veenavada vibhooshini. It is said that Parvati is supposed to have defeated Sarawati in the tuning of the Veena at this place.
It is said that during the deluge the Vedas along with the puranas, agamas, smritis and sastra took shelter under this linga and were protected. After the deluge the four Vedas along with the puranas worshipped the linga after bathing in a tank made by them. When Siva appeared, the Vedas requested Siva to let them stay there as trees and plants and others and the place are known as Vedaranyam. The tank that they had built be known as Vedamrita.
This is the only Shiv temple which has the Lord Shiv and Parvati in their whole wedding costume. The temple has fine paintings and sculptural work done on it.
The temple had been built by the great Aditya Chola. The temple is along the banks of the river Kaveri. The temple has several inscriptions dating back to the ancient Chola period. Everyday 6 different rituals are performed in this temple. There are idols of Vani, Rahu and Ketu, and also a shrine of Thiyagaraja. Another part of the temple premises consists of Murugan, Saraswati and Durga. There is a long and large pillar in the temple which has 12 zodiac signs encrypted in the pillar. This Vedharanyam in TamilNadu is nearby to Nagai and Kodaikarrai.