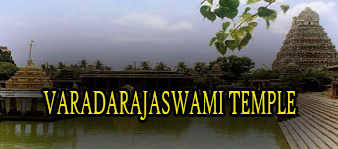 Sri Kurma Varadaraja swamy temple has been located on the way to Palamaner and Kotur road faraway from 4 km. Kurma a form of the God Vishnu, In this form Vishnu is the giver of boons. At the heart of Sri Kurma Varadaraja Swamy temple sacred deity Varadaraja swamy and goddess Bhudevi has been residing. Sri kurma varadharaja swamy temple abode on the bank of the sacred river koudinya.
Distance (From Kanchipuram Central Bus Station): 
3 Kms
Visited From: 
Kanchipuram Central Bus Station
Trip Duration (Including Travel): 
1 Hour
Transportation Options: 
Cab / Auto
Timings: 6.30 AM – 12 noon & 3.30 PM – 8 PM
At a distance of 3 km from Kanchipuram Bus Station and 4 kms from Railway Station, Sri Varadaraja Perumal Temple is also known as Devarajaswami Temple. This temple is dedicated to Lord Vishnu.
The 100 ft high temple tower (gopuram) was built in 11th century AD and was renovated by the Vijyanagar Kings in the 16th century. This temple has a 100 pillar hall (mandapam) which is beautifully carved. There is a chain that is carved out of a single stone.
The temple owns a chariot (ther) which is parked on Gandhi road. The chariot is taken out for procession (chariot festival) around the city once in a year (during the month of May).
King Vishnuvardhana's mother was very old and she could not travel to kanchi. so the king brought the same people from kanchi who designed varadharajar and asked them to create a sculpture same as Kanchi varadarajar. pooja was offered everyday to Varadarajar and on the 48th day after the mangala aarthi she regained her eyesight. since the god answered the prayers he is also called as Nethranarayana. The moolavar is 12 feet height and the temple is very close to Ugranarashima swamy temple.