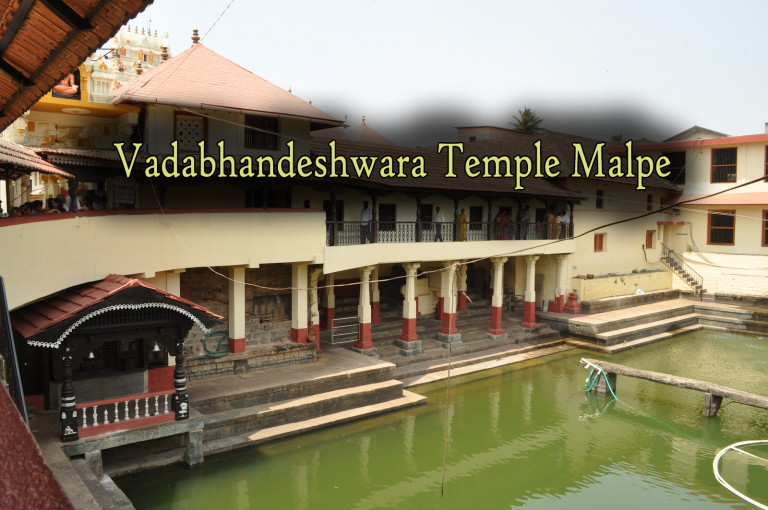 Also known as Anantheshwara temple, it is located near by the Malpe port.  The temple is dedicated to Lord Balrama (brother of Lord Krishna). It is said that the idol of Lord Balram was installed by Philosopher Sri Madhavacharya. Devotees visit the temple on the new moon day or Mahalaya Amavasya to offer prayers and to bath in the sea
Distance (From Udupi Railway Station): 
10 Kms
Visited From: 
Malpe Beach
Trip Duration (Including Travel): 30 Mins
Transportation Options: 
Cab / Auto / Bus
Travel Tips: 
This place can be visited from Malpe Beach (1 Km)
Timings: 6 AM – 8 PM
At a distance of 10 Kms from Udupi Railway Station, Vadabhandeshwara Temple dedicated to Balarama, the brother of Sri Krishna is situated near Malpe Beach. This temple is believed to have been built by Madhvacharya who built the famous Udupi Sri Krishna Temple.
The sea shore near Vadabhandeshwara Temple is said to be the place where Madhavacharya had a vision of Lord Krishna is a sacred spot and a shrine for Lord Subramanya is built here. Evening is the best time to visit this temple, which allows you to also visit the near by beach and watch the beautiful sunset.
Mahalaya Amavasya is a special day here when thousands of pilgrims visit this temple and take bath in the sea. Malpe can be reached by bus from Udupi.