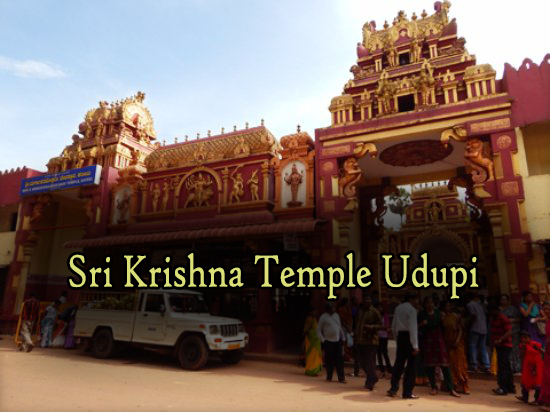 Udupi is a divine shrine in the coastal region of Western Ghats. Situated about 60 kms from Mangalore, it is a fairly large and upcoming town that was sanctum of Madhvacharya, the great Sanskrit Philosopher.
Distance (From Udupi Railway Station): 
3 Kms
Visited From: 
Udupi Railway Station
Trip Duration (Including Travel): 
2 Hours
Transportation Options: 
Cab / Auto
Timings: 5 AM to 9 PM
At a distance of 3 Kms from Udupi Railway Station, Udupi Sri Krishna Temple is one of the famous pilgrimage centers in South India.
The Krishna temple was founded by the Vaishnavite saint Shri Madhvacharya in the 13th century. This temple has a fascinating idol of Lord Krishna that is richly adorned with jewels & a famous golden chariot. The unique feature of this temple is that the Lord is worshipped only through a window with nine holes called the Navagraha Kitiki. The daily sevas and administration of the Mutt are managed by the Ashta Mathas.
Saptotsava or the Seven Utsavas celebrated in mid of Jan are considered as the annual festival of Sri Krishna Temple. During the Paryaya festival, held every two years, the temple management is handed over to the next Matha. Krishnashtami, Raamanavami, Hanumajjayanthi, & Deepavali are other important festival here.
The famous temple here, has a fascinating idol of Lord Krishna that is richly adorned with jewels. It is the center for education, social and religious activities in the district of South Canara. It is known for the famous Sri Krishna temple. The reasons for its fame are the statue of Sri Krishna installed by the great saint Sri Madhvacharya and the penance and influence of Sri Vaadiraja yathivarenya. Another attraction of this temple is the 'Kanakana Kindi' -a small window through which Krishna is believed to have given darshan to his ardent devotee, Kanakadasa.
Chandamouleeswara and Anantheshwara Temples adjacent to Sri Krishna Temple are about 2000 years old.