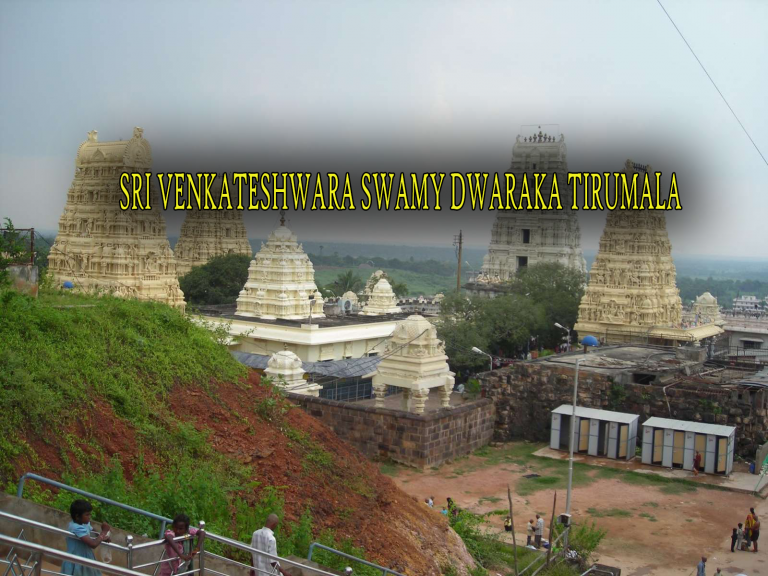 Dwaraka Tirumala is a famous temple from the ancient times. According to some Puranas, the temple is popular even in Kruta yuga and is still attracting the devotees.At a distance of 1 km from Dwaraka Tirumala Bus Stand, 45.5 km from Eluru, 73 km from Rajahmundry, 101 km from Vijayawada, 135 km from Kakinada and 278 km from Visakhapatnam, Sri Venkateswara Swamy Temple is located on the top of the Seshachala Hill at Dwaraka Tirumala in West Godavari district of Andhra Pradesh. This temple is considered as sacred as the famous Sri Venakteswara Temple of Tirumala.
ABOUT DWARAKA TIRUMALA:
Lord Vishnu is presiding deity here in the form of Sri Venkateswara Swamy. The temple was constructed by the Mylavaram Zamindars in 19th century. The self-manifested idol of Sri Venkateswara Swamy was unearthed by a saint named Dwaraka and hence, the temple is called Dwaraka Tirumala. This place is also called Chinna Tirupati.
The statue of the lord is visible above the waist and the lower portion is imagined to be in the earth. The holy feet are said to be offered to Bali Chakravarthi in Patala loka for his daily worship. The full size idol of Lord Venkateswara standing at the back of the main idol is said to have been installed by the great social reformer Ramanujacharya in 11th century. These two idols are located in the same sanctum sanctorum which is a unique feature of this temple. The idols of Goddess Padmavathi and Nanchari are installed in the Arthamandapa.
The region covered by our Dwaraka Tirumala is commanding the top most conspicuous position in India, being garlanded by these two great Indian rivers Krishna and Godavary, as pointed out by Brahma Purana.
The devotees who wish to go and offer their donations, or tonsures or any other offerings to Lord Venkateswara, Lord of Tirumala Tirupati, called as "Pedda Tirupati", due to some reason, if they are unable to go there, they can offer their donations, prayers and worship in Dwaraka Tirumala temple.
Temple Tour (Holy places in the Temple): 
Sri Swamyvari Temple
Anjaneya Swamyvari and Sri Garuda Swamivari Temples
Sage 'Dwaraka' Statue
Alwar Temples
Deeparadhana Temple
our corner Mandapams
Sri Tallapaka Annamacharya Statue
Temple Activities for the day: 
Daily worships begin with "SUPRABHATAM" at 4-00 AM and end with the ringing of bells at 9-00 PM according to "VAIKHANASA AGAMA SASTRA"
This temple is a masterpiece of South Indian Architecture with its five-storied main Rajagopuram facing the south and three other gopuras on the other three sides. There are several temples of Alwars attached to the Prakara on all sides. There are other shrines in the temple, Lord Anjaneya Swamy, Garuda, Saint Dwaraka and image of Sri Tallakapaka Annamacharya.
Another interesting feature of the temple is that the hill appearing to be a serpent in form.
Brahmotsavam (around May) and Vaikunta Ekadasi (Dec/Jan) are celebrated grandly in the temple. The Tiru kalyanotsavam is celebrated twice a year.
Darsanam:
Darsanam is provided to devotees every day. Darsanam timings are Morning 6AM to   1 PM, 3 PM to 5.30 PM and 7.00 PM to 9 PM.
The ticket rate for Darsanam is free
Seeghra Darsanam: This is a Special type of Darsan. People can use this type of Darsan having shorter period of time. Darsanam timings are Morning 6AM to 1 PM, 3 PM to 5.30 PM and 7.00 PM to 9 PM.
The ticket rate for this type of Darsan is Rs.50/- per head
Arjita Kalyanam will not be celebrated on the following Days:
Makara Sankranti
Swamy vari Vysakhamasa Kalyanotsavams (From Vaisakha Suddha Dasami to Bahula Vidiya)
Swamy vari Aswayujamasa Kalyanotsavams (From Aswayuja Suddha Dasami to Bahula Vidiya)
Solar Eclipses
Krishnastami
Pavithrotsavams (From Sravana Suddha Trayodasi to Bahula Padyami)
Address:Sri Venkateswara Swamy vari Devasthanam,
Dwaraka Tirumala (China Tirupathi) – 534 426
West Godavari District., Andhra Pradesh, India