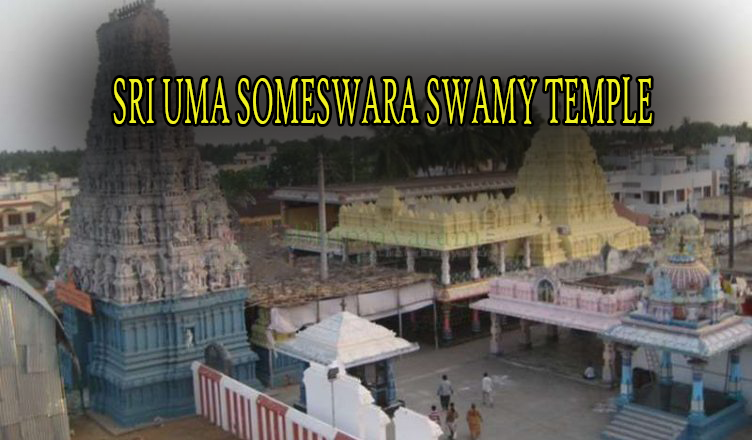 Gunupudi Bheemavaram is located in West Godavari district of Andhra Pradesh in India. Lord Shiva known as Somaramam and is situated at Bhimavaram town in West Godavari District of Andhra Pradesh. At a distance of 1.2 km from Bhimavaram New Bus Station, 65 km from Eluru, 76 km from Rajahmundry, 117 km from Vijayawada, 116 km from Kakinada, 22 km from Palakollu and 277 km from Visakhapatnam, Sri Someswara Temple is one of the Pancharama Kshetras of Lord Shiva known as Somaramam and is situated at Bhimavaram town in West Godavari District of Andhra Pradesh. The other four are Amararama Temple in Amaravathi, Draksharama Temple in Draksharamam, Kumararama Temple in Samalkoti and Ksheera Rama Temple in Palakollu.
ABOUT SOMESWARA SWAMY TEMPLE:
The main contribution for temple construction was made by the King Chalukya Bheema I during 10th century. The Shiva lingam is called Someshwara as it is believed that this lingam has been installed by Lord Chandra. The color of the linga is believed to change according to the Lunar rays. In Full Moon days it changes into white and during Amavasya day, it turns into black in form.
According to legend, Tharakasura worships Lord Shiva and gets his Atma Linga. Then, Tharakasura starts troubling people and Devatas. The Devathas then got frightened and went to Lord Vishnu for help. Lord Vishnu told them that Tarakasura was a great Shiva bhaktha and a devoted worshipper of Lord Shiva. Lord Vishnu advised the devathas to go and pray to Lord Shiva. As per blessings, Tharakasura dies only by a boy. Lord Kumara Swamy Avatar thus happens and boy kills Tharakasura. After Tharakasura is destroyed, the Athmalinga gets divided into five. Each one gets installed by Devatas in five different places. These places are called Pancharama Kshetras.
Distance (From Rajahmundry): 

76 Kms

Visited From: 

Rajahmundry

Trip Duration (Including Travel): 

4 Hours/Half Day

Transportation Options: 

Bus / Cab

Travel Tips: Sri Ksheera Rama Temple – Palakollu is 22 km from Bhimavaram and both places can be visited together.
This temple is situated in walled compound and faces the East. The temple is two storied structure. The Shiva Lingam in Grabhagriha is 5ft in length. The Goddess Annapurna is located on the top of Shiva Lingam seen in the temple's first floor and this kind of construction is unique and not seen anywhere in the country. This resembles the fact that Lord Shiva holds the Goddess Ganga on his head. There is a temple of Goddess Parvathi located near the main temple. There is a pond known as somagundam situated opposite to the temple. There are 5 nandi statues in the temple compound. Inside the temple, Lord Anjaneya Swamy, God Kumara Swamy, Navagraha, Sun God and Lord Ganesha can also be seen.
Shivratri is the annual festival being celebrated here with lots of zeal and enthusiasm.
Bhimavaram is well connected by bus and train with major towns in Andhra like Vijayawada, Eluru, Vizag, etc.
Pooja Timings:
The temple remains open in the morning from 5.00 AM to 11.00 AM and in the evening from 4.00 PM to 8.00 PM.
Festivals
Maha Shivaratri – February/March
Sarannavarathri – September/October
Darashan Timings: 5 AM – 11 AM and 4 PM – 8 PM(open & close)
Address:
 

Gandhinagar, Bhimavaram, Andhra Pradesh 534202

Gunipudi, Bhimavaram, West Godavari District, Andhra Pradesh, India