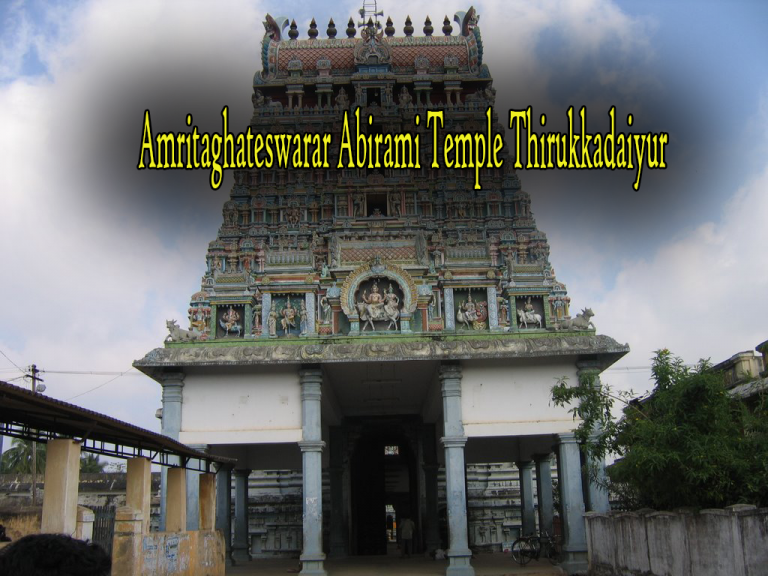 Sri Abirami Amman Sametha Sri Amirthakadeswarar Temple is located at THIRUKADAVOOR (thirukadaiyur), Tanjore District 18 Kms away from Mayiladuthurai. This temple is maintained and controlled by DHARMAPURAM ADHEENAM MUTT.
Address : Nagapatnam District, Sannathi St, Thirukadaiyur, Tamil Nadu 609311
The temple, in line with the temple architecture of the Chola dynasty, occupies a very vast area of 11 acres (45,000 m2), with five courtyards, several imposing temple towers, and large and spacious mandapas. Though the details of the king who consecrated the temple are uncertain, it can be ascertained from inscriptions in the temple that it has been in existence since at least the tenth or eleventh century, during the reign of Raja Raja Chola I.
The Kungliyanayanar and Kariyanayanar among the 63 Nayanmars were done Sivathondu (service to Lord Siva). While the ruling period of King Saraboji, Goddess Abirami Ambal made Amavasai (Moonless Night) into Pournami (Fullmoon day) for a Devottee named Abirami Batter and for this Abirami Batter praised the Goddess Abirami Ambal's Abirami Anthathi.
Lord Siva is worshipped here as Kalantaka (Destroyer of Death) and Goddess Parvati is worshipped as Abhirami (Lovely One). The temple is a beautiful 10th century temple spread over 11 acres.