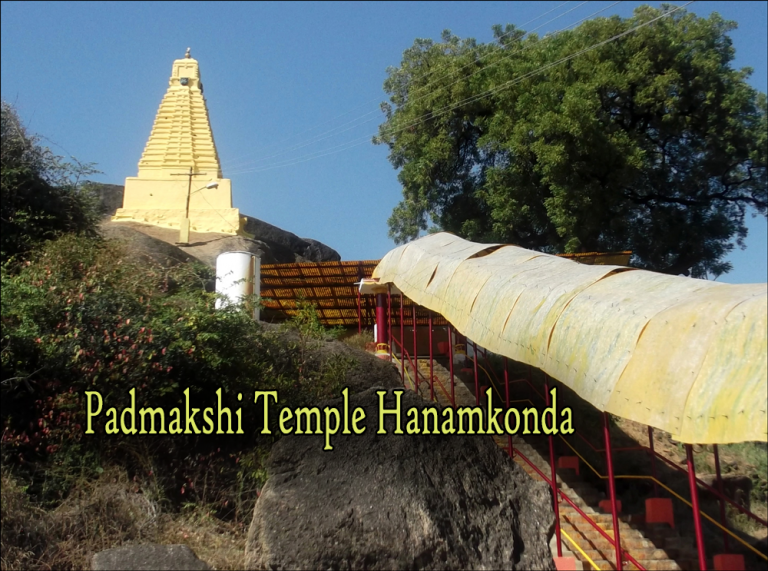 Padmakshi Temple is an ancient temple, which is believed to be constructed during the first quarter of the 12th century. This temple is dedicated to Goddess Padmakshi and is visited by a number of devotees throughout the year. This place is thought to be a Jain temple originally, due to prescence of carvings and sculptures of Jain Tirthankaras. A large pillar made of black granite and possessing a number of carvings, sculptures and inscriptions, is located at the entrance of the temple and is called the Annakonda Pillar. During the festive celebrations of Bathukamma, this temple is visited by devotees in large numbers.
Distance:
-150 kms from MGBS Hyderabad
-79 Kms from Karimnagar Bus Station
Padmakshi Temple Hanamkonda Timings: Daily 6 AM to 6:00 PM
Special Attractions in Padmakshi Temple Hanamkonda:
– Annakonda Pillar
– Bathukamma Festival
– Panoramic view of Hanamkonda city from the top of the hill
Nearby Attractions:
– Bhadrakali Temple
– Warangal Fort
– Thousand Pillar Temple
The most notable among these sculptures is the Annakonda pillar located at the entrance of the temple. The Pillar is a quadrangular structure made of black granite. The four walls of this pillar show liberal display of rich Jain carvings that enhance the aesthetic value of the structure. Also worth mentioning is the book rest or Vyasapitha carving.
Various festivals are celebrated in this temple with lots of energy and enthusiasm navratri is one of them during navratri women decorate the idol of goddess Durga and organise Kirtan for the nine days, the temple looks so colourful during this festival. The women celebrate Bathukamma festival with full devotion, they make idols of Durga with flowers and then immerse them in padmakshi lake to bid her farewell. 
This temple is popular among the south Indians and they come here every year to offer prayers and donations for the temple. Outside the temple there are various stalls that provides you with the photos of goddess padmakshi and tasty local food stuff.