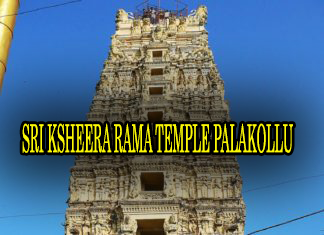 Lord Shiva is worshipped as Ksheera Ramalingeswara Swamy at a distance of 1.7 km from Palakollu Railway Station, 85 km from Eluru, 67 km from Rajahmundry, 138 km from Vijayawada, 97 km from Kakinada, 22 km from Bhimavaram and 258 km from Visakhapatnam, Sri Ksheera Rama Temple is one of the Pancharama temples, situated in West Godavari district of Andhra Pradesh. The other four are Amararama Temple in Amaravathi, Draksharama Temple in Draksharamam, Kumararama Temple in Samalkoti and Somarama Temple in Bhimavaram.
Kshira Ramalingeswara Swamy Temple History:
Kshira Ramalingeswara Swamy Temple is dedicated to Lord Siva. Temple Tower (Raja Gopuram) measures
120 feet in height with 9 floors. From the inscriptions, it is known that this temple was built by the King
Bheemeswara in the year 918 A.D. The main deity inside the Sanctum Sanctorum is of 2 feet height. It is
known from the inscriptions that Great poets Nanayya, Thikkana, Srinatha visited this shrine.
As per the Legends mentioned in Skanda Purana and Brahmanda Purana, Demon Tarakasura theft
Amrutha Atma Linga which emerged out during Ksheerasagar Mathanam (drilling Ocean of Milk).
Tarakasura wearing this Linga around his neck, with hi supernatural powers, he was unbeatable. Kumara
Swamy son of Siva and Parvathi, who was the commander-in-chief for deities came face to face with
Tarakasura in the war. Kumara Swamy used his Sakthi weapon to kill Tarakasura. Kumaraswamy
repeatedly broke Tarakasura body into pieces and it was reunified again.
Lord Maha Vishnu advised Kumara Swamy to break shiva linga into pieces, only then the demon can be
killed. Maha Vishnu also said that even after breaking the shiva linga, the pieces will try to reunite again.
To prevent this reunion, all these broken pieces should be fixed in those places where they fall, by
worshiping and building temples on top it.
As advised by Maha Vishnu, Kumara Swamy used his Agni weapon to break the Siva Linga worn by the
demon. The Atma Linga broken into five pieces, the broken pieces tried to reunite by making the chant
'Aum'. To prevent this Indra, Surya (Sun), Chandra (Moon), Vishnu and Kumara Swamy worshipped the
Linga's at the respective places. It is believed that Lord Vishnu installed the Siva Linga and Tripura Sundari
(Parvati) here.
Another interesting story associated with this temple, A poor Brahmin Koushika who struggle a lot for his
daily needs. Once his son Upaveeta asked his mother to prepare milk rice. Due to poverty, she asked him
to pray for Bhimeswara. As advised by her mother, he sat right in front of Idol for the milk. Impressed
Lord Siva created a milk pool with his Trishul Hence, the name Ksheerapuram and Palakolanu which later
called by Palakollu.
Lord Shiva is worshipped as Ksheera Ramalingeswara Swamy at this temple. The temple tower is one of the tallest among the temple towers in Andhra Pradesh. The height of the temple is 120 ft with 9 floors constructed during the reign of Chalukya Bheema in 9th century. The Prakara was designed by Sri Velupathi during 10th century. Gopuram was constructed by Sri Alladu Reddy during 14th Century. This ancient temple has been listed as a protected monument by the Archaeological Department.
The Shivlinga is a unique milky white in color and the tallest. According to legend, Upamanyu the son of sage Kaushik, requested Lord Shiva to grant him enough milk so that he can carry on the rituals in the temple. Lord Shiva filled the Ksheera Pushkarni Tank with the mythical milky ocean (Ksheera Sagaram). Hence this place is known with different names, Ksheerarama, Palakollu and Dugdhapovanam.
The Shiva Lingam inside the garabha griha can be seen from all the four sides through windows. There is a belief that the Shiva lingam is installed by Lord Vishnu. It is believed that Lord Sri Rama performed first pooja here. Sri Adi Sankaracharya installed Sri chakram in this temple.
There are 72 pillars made of black stone in the temple mandapa. Inside the temple complex, Gokarneshwara and Ganapati shrines can also be visited. To the right, Subramanya Swamy and Janardhana Swamy shrines with Nandi at the centre are situated. Gostani River flows through the town Palakollu and it gets merged with river Godavari at Narsapur.
The temple complex has many shrines, including Kashi Vishweshwara, Goddess parvathi, Goddess Lakshmi, Nagareshwara Lingam, Dundi Vigneshwara, Veera Bhadra, Sapta Matruka, Kanaka Durga, Brahma, Saraswathi, Kumara Swamy, Kartikeya, Mahishasura Mardhini, Kala Bhairava, Naga sarpa, Nataraja, Dattatreya, Nageshwara, Shaneeshwara, Radha Krishna, Shankara.
Mahashivaratri is an important festival celebrated in this temple.Palakollu is well connected by bus and train with major towns in Andhra like Vijayawada, Eluru, Vizag, etc.
Kshira Ramalingeswara Swamy Temple Timings:
Mornings Hours: 5:30 am – 12: 00 pm
Evening Hours: 4:00 pm – 8:30 pm
Abhishekam and Astottaram will be performed from 6:00 am – 11:00 am
Astottaram and KumKum Pooja will be performed from 4:30 pm – 7:30 pm
Address:
Palakollu, Near Narasapuram, West Godavari District, Andhra pradesh, India pincode-534260