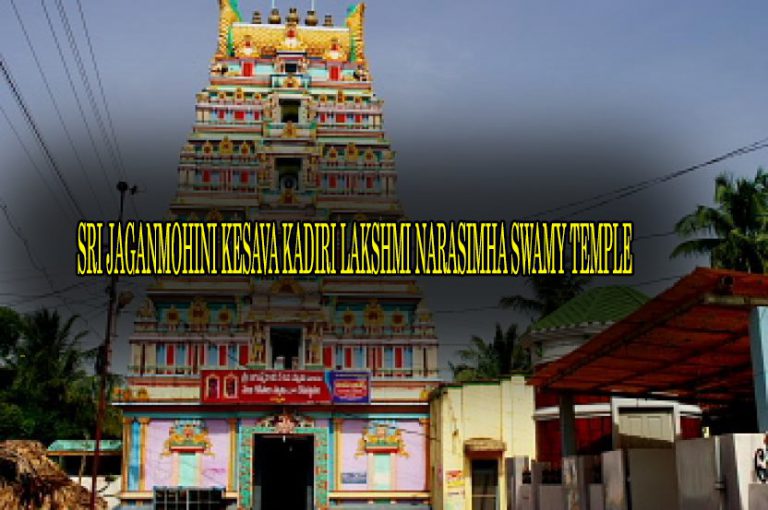 Ryali Jagan Mohini Kesava Swamy temple is located 40 Km from Rajahmundry, 74 Km from Kakinada and 34 Km from Amalapuram and it is situated between the rivers Vashista and Gautami, Tributaries of river Godavari, this is the site of the renowned Jagan Mohini Kesava Swamy temple. The exquisite idol, made of black stone depicting Maha Vishnu and Mohini on its front and rear sides, is a real marvel of sculptural dexterity.
Sthala Puranam:
Ryali is situated in East Godavari district (Atreyapuram Mandalam) of Andhrapradesh – India. This area is also called Kona Seema, a purely well irrigated area of Andhrapradesh due to many tributories of river Godavari. The famous Sri Jagan Mohini (Sri Maha Vishnu) temple is situated in ryali. The shrine of Sri Jagan Mohini Keshava Swamy is made up of single stone (Salagrama Ekashila – 5 feet height and 3ft width). The idol looks like Sri Vishnu (male) from front side and as Mohini (female) from rear side.
According to the sthalapuranam, Devatas and Rakshasas were quarrelling for sharing of the divine nectar. At that moment, Lord Maha Vishnu  came to rescue  the devatas in the form of the Mohini and convinced both the groups by promising to distribute holy divine nectar in equal share to Devatas and Rakshasas. After distributing the holy and divine nectar among the devas, Mohini disappeared.  Lord Shiva having seen the  most fascinating beauty of the Mohini,  chased her,  forgetting for a while,  the presence of his consort Parvathi Devi, and  it is believed that this resulted in the  birth of "Shri Ayyappa Swami". One flower from the plait of Mohini fell down and it was smelt by Lord Shiva. Then he surprisingly found "Sree Maha Vishnu" in the form of Mohini and felt shy for his behavior. The place where the flower from the plait of Mohini fell is named as Ryalli, in Telugu meaning  "fall".
This place known as Ryali for the above reason became above of Lord Siva and Sree Mahavishnu with the form of Mohini on back side Lord Brahma consecrated the Siva Lingam with his Kamandalam and hence Lord Siva at Ryali is worshipped as Sri Uma Kamandalesara Swamy Varu, Sri Mahavishnu with the form of Mohini on backside is worshipped as Sri Jaganmohini Kesava Swamy varu both Siva and Vishnu Temples are located facing each other. This is very rare feature at Ryali where Vishnu and Lord Siva Temples faces each other in East, West direction.
During 11th Century, this village was a part of wild Forest and these parts were under the rule of Chola Rajas. Sri Raja Vikrama Deva who ruling these parts during those days came to this place for hunting. Having been tired after hunting wild animals, he took rest under the shade of a big ponna tree, and fell in deep sleep and got a dream. Lord Sri Maha Vishnu appeared in his dream and informed that his shrine was located in the under ground of this area and directed the "Raja to get the wooden made chariot pull in the area and where the nail of chariot fell, the shrine can be found in the under ground of that place. Raja has done accordingly and the land where the nail of chariot fell was excaved and found the idol making the dream of Raja true. He constructed a small temple during 11th Century and arranged worship during his regime. Gradually prakarams were developed in the year 1936 (Data nama Samvatsara) it was renovated.The Shrine of Sri jaganmohini kesava Swamy varu is Salagrama Ekasila with 5 feet height and 3 feet width.
Salgramasila is itself the form of Sri Maha Vishnu. The idol of Sree Kesava Swamy varu of "Sri Mahavishnu" in front side and Jagan Mohini on back side. The tem incarnations Lord Sree Maha Vishnu with consorts, Sri Devi, BhooDevi, Sage Narada, Thumbura, Rambha, Urvasi, Kinnera, Kimpurusha, Lord Krishna with Govardhanagiri, Adiseshu, Garuda and Ganga are beautifully, scluptured around the shrine. The most miracle and rare feature is that, Ganga always flows from the feet of Sri Maha Vishnu is the origin of Akasa Ganga and this truth can be witnessed here. The most wonderful architectural beauty of Shrine, and flow of Ganga from the feet of Swamy varu are really unique features and shrine became very sacred. The architectural beauty of idol can not be described in words. Further it gives impression as it is new idol though its origin is of 11th Century.This shrine is "SWAYAMBHU" people visiting the temple form several parts of the Country believe that the shrine is not of man made but certainly creation of Devatas and Darsan of Swamy varu gives the feeling of presence of real God.
Festivals:
Sri Jaganmohini kesava Swamy kalyanam will be conducted from Chaitra sudha Navami to Pournami (March/April).
Sri Rama Satyanarayana Swamy kalyanam will be conducted from Visakha Sudha Ekadasi to Pournami.
Sri Venugopala Swamy kalyanam will be conducted from Jyesta Sudha Ekadasi to pournami (June).
Sravana Bahula Astami Sri Krishnastami (August).
Karthiaka sudha Dwadasi (Ksheerabdi Dwadasi) (November).
Devi Navaratrams (October).
Mukkoti Ekadasi.
Bheeshma Ekadasi.
ACCOMMODATION:
There are guest Houses available here for the convenience of devotees which are: a choultry building with 8 rooms, and a guest House with 2 suites without furniture.
Ryali Jagan Mohini Temple Timings:
Morning Hours: 6:00 am – 12:00 pm
Evening Hours: 3:00 pm – 8:00 pm
Address:
Sri Jaganmohini Kesava & Gopala Swamy Temple,
Samalkota(Ryali)
East Godavari District pin-533236.