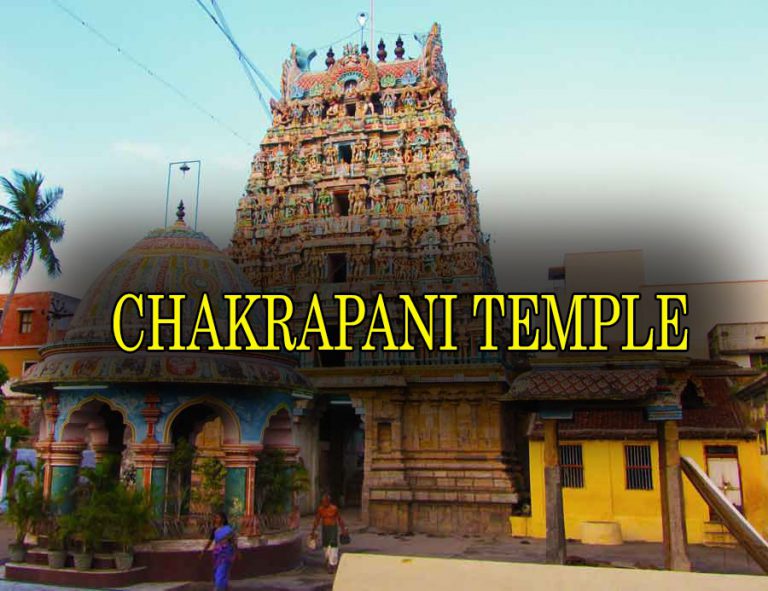 Chakrapani Temple is a Hindu temple dedicated to Vishnu located in Kumbakonam, Tamil Nadu, India. This temple is located 2 km, away towards North West from the Kumbakonam Railway Station. Vishnu appears in the form of a discus or Chakra to put down the pride of Surya(the Sun), who subsequently became his devotee. Like Shiva, Lord Chakrapani has a third eye on His forehead. The temple is one of the most prominent temples in Kumbakonam.
At a distance of 3 km from Kumbakonam Railway Station, Chakrapani Temple is a Hindu temple situated on the southern bank of Cauvery River in Kumbakonam of Thanjavur district, Tamil Nadu. The temple is one of the most prominent temples in Kumbakonam.
Distance (From Kumbakonam Railway Station): 

3 Kms
Visited From: 

Adi Kumbeswarar Temple (800 m)
Trip Duration (Including Travel): 

30 Mins
Place Location: 

Near Adi Kumbeswarar Temple
Transportation Options: 

Cab / Walk/Trek
History:
This temple is dedicated to Lord Vishnu and appears in the form of a discus or Chakra. The images of Chakrapani with eight arms and Sudarshanavalli Thayar with a gracious visage are inspiring. Like Shiva, Lord Chakrapani has a third eye on his forehead. Brahma, Surya and Agni are depicted as worshipping the Lord.
According to legend, Sudarshana Chakra, the discus, is the most powerful weapon of god Vishnu. He once sent his weapon to Patala Loka to kill the demon Jalandasura. The weapon is believed to have come out of the Patala Loka through river Cauvery. God Brahma, who was taking bath in the river, got impressed and installed the image of Sudarshana here. The temple is noted for its exquisite pillars. There is a bronze image of king Serfoji II worshipping the lord as he is said to have been cured an illness by the grace of this God.
Chakrapani Temple attracts devotees who are mentally or physically weakened by illness or problems. The special fire ritual called Sudarshana Homam, Thirumanjanam and Sahasranamarchana are some special pujas held in this temple. Sun God surrendered to Lord at this holy place. Hence, those facing problems due to planetary movements in their life, undergoing the seven and half year Saturn period and the rule of planets Rahu and Ketu are advised to pray to Lord Chakra Raja.
The 10 day Brahmotsavam in Chitirai (April – May), Chariot Festival, Pavitrotsavam, the Float festival or Theppotsavam in Vaikasi are the important religious events celebrated at this temple.
So he became jealous of the vishnu Chakra and increased his brightness more than that of the Sri Chakra to suppress his pride, the chakra drew its brightness to its self and taught him a lesson. Then the sun realized his folly and surrendered to its holy feet. On this holy placeSri Chakrapani Swamy came out of shri Chakra and gave Dharsan to the sun. Having been blessed by Sri Chakrapani Swami, the sun built a temple for this Lord and requested Him to give him a boon that this holy city of Kumbakonam should be named after him as the "BASKARA KSHETHRA". It was granted. The Baskara Kshetra became a renowned Pranthana Stala offering benefits to so many who worship Sri Chakrapani Swami.
The Sun God is supposed to be the head of all the planets (Nava Grahas). He surrendered completely to the main deity of this temple. So if any one worships Sri Chakrapani Swami, all the Doshas due to nine planets (Nava Grahas) will vanish.
Those who are affected by seven and a half year Saturn, Ashtama sani, Ragu dosha, Ragu buddhi, Kethu dosha etc., will be relieved of the dosha on coming to this kshetra and praying to this Lord.
Timings: 6 AM – 12 PM and 4 PM – 8 PM