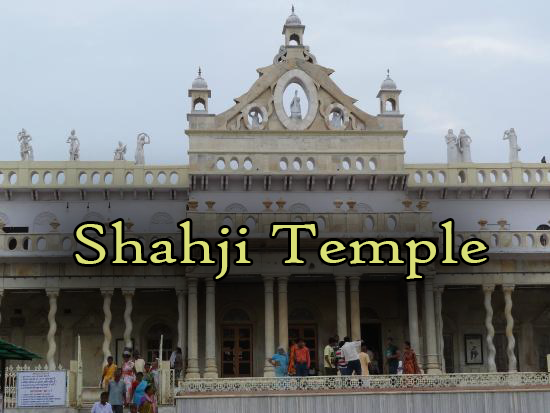 Shahji Temple, Vrindavan has been constructed by the wealthy merchant by the name Shah Kundan Lal of Lukhnow. This was done in the year 1876. It is one of the most important Tourist Attractions in Vrindavan.
Distance (From Vrindavan Railway Station): 

1 Kms

Visited From: 

Vrindavan Railway Station

Trip Duration (Including Travel): 

1 Hour

Transportation Options: 

Cab / Auto

Timings: 8 AM – 11 AM and 5.30 PM – 7.30 PM

At a distance of 1 km from Vrindavan Railway Station, Shahji Temple is a popular temple situated near Nidhi Van in Vrindavan.

Daily Poojas and Festivals:

This temple Opening & Closing times is Morning 8.00 to 11.00 and evening 5.30 to 7.00. During this period major part of the Lord Krishna rituals are performed. Archana, Aarti and Abhisekham are the daily pujas performed.

On occasions of Janmasthami and govardhan all the temples in vrindavana including Shahji temple are beautifully decorated.

Dedicated to Lord Krishna, the Shahji Temple was designed and built in 1860 by a wealthy jeweller, Shah Kundan Lal of Lucknow. The deity of Lord Krishna enshrined atthis temple is known as Chhote Radha Raman. The white colored temple exhibits exclusive artistic craftsmanship making it one of the most popular temples in the town.

Known for its beautiful architecture and marble sculpture, this temple attracts severaltourists. The temple features twelve spiral columns, each of which is 15 feet high. Another highlight of this temple is Basanti Kamra, which is a darbar hall featuring Belgian glass chandeliers and beautiful paintings. On the interior of the walls and on the ceiling, are beautiful paintings that explain the stories from the life of Lord Krishna. The room is opened only twice a year but it is still fascinating to peek from the outside.