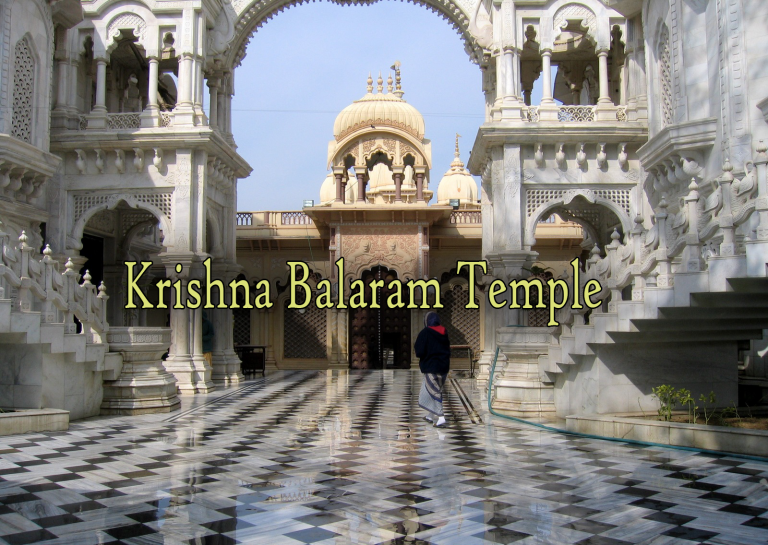 ISKCON temple has three sanctums. The presiding deity of the temple is of Lord Krishna-Balaram, which is housed under the central shrine of the temple. On the right side are Radha Krishna with Lalita and Vishakha.
Distance (From Vrindavan Railway Station): 

2 Kms

Visited From: 

Vrindavan Railway Station

Trip Duration (Including Travel): 

1-2 Hours

Transportation Options: 

Cab / Auto

Timings: 7 AM – 12 PM and 4 PM – 8.30 PM

At a distance of 2 km from Vrindavan Railway Station, ISKCON Temple, also known as Sri Krishna-Balaram Mandir, is a popular temple situated in Raman Reti, Vrindavan. This is one of the main ISKCON temples in India.

ADDRESS:

ISKCON Vrindavan, Bhaktivedanta Swami Marg, Raman, Reti, Vrindavan 281121

Krishna Balaram Mandir / ISKCON Vrindavan Mathura Darshan Timings

Summer
Morning
Evening
4:30 am to 12:45 pm
4:30 pm to 8:00 pm
Winter
Morning
Evening
4:30 am to 1:00 pm
4:00 pm to 8:15 pm

Krishna Balaram Mandir / ISKCON Vrindavan Mathura Aarti Timings

Morning
Evening
Aarti Mangla 5:00 am
Aarti Dhhop 4:30 pm
Aarti Tulsi 5:30 am
Aarti Sandhya 6:30 pm
Guru Pooja 7:15 am
Geeta pravachan 7:30 pm
Pravachan 7:30 am
Aarti Sayan 8:00 am
Aarti Shringar 8:30 am
Aarti Rajbhog 12:00 pm

On the left side is a Murti of Chaitanya Mahaprabhu with Nityananda, and Swami Prabhupada and his spiritual teacher Bhakti Siddhanta Sarasvati Thakura. Krishna – Balaram Mandir enforces one of the highest standards of cleanliness and of deity worship.

The Samadhi Mandir of Swami Prabhupada is also located in front of the temple. After his demise in 1977, his body was laid to rest here. The house of Swami Prabhupada has been converted into a museum. A guest house, goshala, restaurant and a gurukula are also located here.

Janmashtami, the birthday of Lord Krishna, is the main festival celebrated at this temple. The whole temple is decorated with flowers, flags, ribbons and garlands. Rama Navami, Gaura Purnima, Diwali, Annakut, Chandan Yatra, Jhulan Yatra (Swing festival), Kartika (Oct/Nov), Gaura Purnima, Balaram Purnima, Radhashtami and Govardhana Puja are the other festivals that bring special celebration at ISKCON Temple.