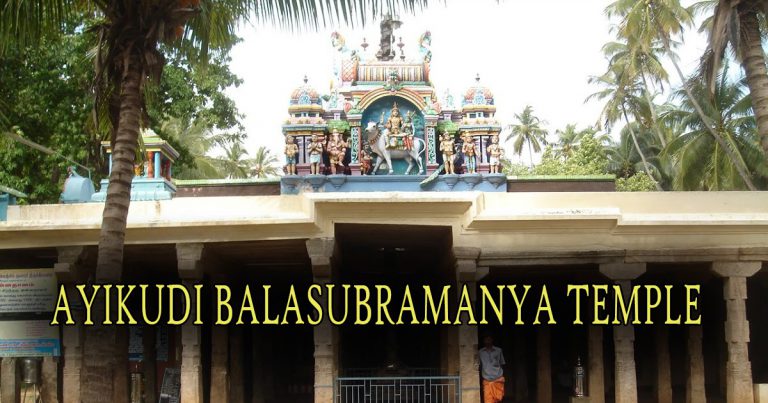 The Ayikudi Balasubramanya Swami Temple is a small Hindu temple in the village of Ayikudi, Thirunelveli district, Tamil Nadu
Distance (From Tenkasi Bus Station): 
7 Kms
Visited From: 
Tenkasi Bus Station
Trip Duration (Including Travel): 
1 Hour
Transportation Options: 
Cab / Auto
At a distance of 1 km from Ayikudi Bus Stop, 7 km Tenkasi, 12 km from Courtallam and 60 km from Tirunelveli, Sri Ayikudi Balasubramanya Swamy Temple is a small temple situated in the village of Ayikudi on the banks of Hanuman River. It is believed that Lord Hanuman had stayed on the banks of the river during his journey to Lanka.
This temple is dedicated to Murugan in the form of Balasubramanya Swamy, also popularly known here as Rama Subramanya Swamy. The main deity is a small idol with four hands. The three hands illustrate shaktivaram, vajram and abhaya mudra while the fourth hand holds a peacock and the lord sits on a lotus.
The Travancore Royal family took up the temple management and the temple was renovated. The shrine also houses Vishnu, Shiva, Ambikai, and Ganesha and Aditya (Surya).