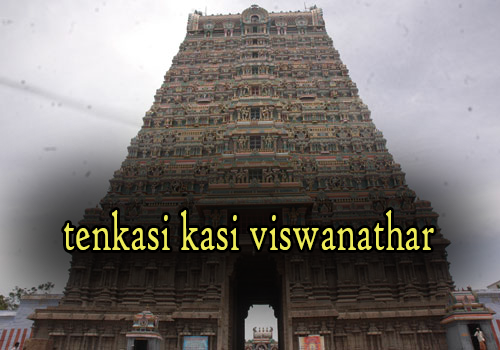 Kasi Viswanathar Temple in Tenkasi, a City in Tirunelveli district in the South Indian state of Tamil Nadu, is dedicated to the Hindu god Shiva.
Distance (From Tenkasi Bus Station): 
1.5 Kms
Visited From: 
Tenkasi Bus Station
Trip Duration (Including Travel): 
1 Hour
Transportation Options: 
Cab / Auto
Timings: 6 AM – 11 AM and 4 PM to 8 PM
At a distance of 1.5 km from Tenkasi Bus Station, 5 km from Courtallam and 55 km from Tirunelveli, Sri Kasi Viswanathar Temple is one of the main attractions of Tenkasi. Built by the Pandya Kings, the massive gopura of the temple is the second largest in Tamil Nadu. This temple is also known as Ulagamman Temple.
The temple was built by Parakrama Pandyan in Dravidian style. The construction of Rajagopuram was completed in the year 1505. The gopura caught fire in 1824 and was in a bad condition till 1966. Then the renovation began and was completed in the year 1990. The Rajagopuram is 180 feet tall and is a masterpiece of aesthetic beauty. A pathway is also provided up to tower in the 9th tier to have an aerial look of Tenkasi.
The temple is dedicated to Kasi Viswanathar a form of Lord Shiva in a self incarnated form (swayambu). It is believed that worshipping the Lord in this temple is as equal to worshipping the Lord in Kasi. The consort of Kasi Viswanathar is known as Ullagamman in this temple.
This temple has three shrines – Siva, Amman and Murugan. This temple boasts beautiful sculptures and also has musical stone pillars that produce different sounds when tapped with fingers. There are twin statues of Veerabhadra, Nataraja, Rathi-Manmatha, idols of Thirumal and Kali Devi are wonderfully carved. Name of the town is derived from this temple and known as Kasi of South. The nearby river Chittar is considered equivalent to Ganga. People here believe that those who worship in Tenkasi get the same benefit of worship undertaken in Kasi.
The 10 day Masi Magam in February/March, Navarathri in September/October, Tirukalyanam in October/November, boat festival in August/September are the festivals grandly celebrated in the temple.